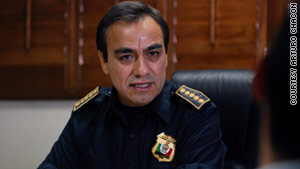 "If the criminals resist giving up ... well then there will be incidents of confrontation," says Julian Leyzaola.
STORY HIGHLIGHTS
Julian Leyzaola took over as police chief in March
He is following the recipe that he used in Tijuana
The police chief started by firing many officers
The biggest problem in Juarez is not drug trafficking but extortion, he says
(CNN) -- On the job for barely three months, the new police chief of Ciudad Juarez -- the globally recognized hotspot in Mexico's drug wars -- predicts bold changes in his new border home.
Juarez will be pacified in the year ahead and public confidence will return by 2012, said Julian Leyzaola, who officially carries the title of secretary of municipal public safety.
It's the kind of comment one would expect from a man who made his reputation wrangling another border city, Tijuana, under control. But in an exclusive interview with CNN, he sat calmly with a chocolate milk in his hand.
"I understand that this will not be free. The citizens are not going to start believing in the authorities just because I arrived," he said. "We have to show the people with deeds, not rhetoric."
Despite his strong predictions for a turnaround of Juarez's woes, Leyzaola said fighting between criminal groups and the police will continue until the cartels fighting in Juarez's streets bow to police.
"If the criminals resist giving up ... well then there will be incidents of confrontation. Until what point? As long as necessary," he said.
With an average of eight to 11 murders a day in 2010 and an average of five to six daily killings this year, at first glance it seems like a long war is ahead.
But the police chief says confidently: "The police will regain the city."
The first thing he observed once he arrived was that the biggest problem in Juarez is not drug trafficking but extortion and organized crime by adolescents who have taken advantage of "impunity" in the city, he said.
Of the claim that Juarez is the deadliest city in Mexico, he says, "If it's true that there are a lot of killings in Juarez, it is also true that organized crime here is disorganized." He explained that in an atmosphere of lawlessness, gangsters are just as likely to kill bystanders along with their intended targets because there is no price to pay.
"There was anarchy. There was a lack of police presence in the street. A lack of control. A lack of order in the city, which is what permitted the growth of mafias, of delinquent groups who at any moment could do what they pleased," he said.
And in Juarez, most of those crimes are carried out by teenagers who do not face the same penalties as adults, another factor they use in their favor.
"We are well aware that kids as young as 16 years old commit crimes, just like any adult," Leyzaola said.
Youths in the border city are "brainwashed" to believe they can have money and women, and become capos.
Youths are worse offenders than adult criminals because they are more "aggressive" and "thoughtless," he said. "They still don't have the ability to reason."
"It's exclusively youth that we've detained. It's rare that we find someone who is 25, 30 years old. Those guys are already too old to be delinquents. The majority of the people we've detained have been between 16 and 19 years old," he said.
It's because of this that Leyzaola supports changing the law to make it easier to charge youths as adults.
The new police chief claims that Juarez will no longer be labeled "deadliest city" by the end of the year.
To achieve that, he plans to follow the strategy that he says led to success in Tijuana.
Leyzaola believes in enforcing all laws to create an atmosphere of lawfulness that will trickle up through society.
So his police department goes after smaller crimes such as selling pirated DVDs, small-time corner drug dealing, prostitution without a license and operating gambling joints.
Those arrested complain often, saying that police are overstepping their bounds or not focusing on the narcos.
But the way Leyzaola sees it, the areas with prostitutes and piracy are also areas with kidnappings and killings.
His logic can be understood through this analogy he makes: A counterfeit salesman complained that the police were taking away his livelihood. Leyzaola's response is that a crime is a crime. If you are willing to sell pirated goods to feed your family, what's stopping you from kidnapping or killing to feed your family?
In Tijuana, he said, he put more patrol cars on the streets, following this same formula, in essence making it more difficult for the cartels and their organized crime syndicates to operate. They couldn't move around as easily. It was a direct hit against their structure, he said.
Leyzaola came to the embattled city in early March after being appointed by Mayor Hector "Teto" Murguia Lardizabal. The move was widely seen as a message to the public that the administration would be tough on crime.
What Leyzaola found was that he inherited a police department with low morale and high corruption.
"Inside the police I found details of many personnel who either voluntarily or involuntarily participated in activities to protect the criminals," he said. "Some of them did act directly in their actions."
As a result, Leyzaola has fired 160 police officers in three months but admitted it remains a "long and slow process" to rid the department of bad apples.
"First you need to clean house before you clean the city," he said.
In March 2008, more than 8,000 soldiers arrived in Juarez to initiate the Joint Operation Chihuahua, the federal government's strategic plan submitted by Mexican President Felipe Calderon. As its name implies, the joint initiative intended to coordinate all government bodies, including the municipal, state and federal police. But Leyzaola said there are challenges, acknowledging a rift between the local and federal police.
He said his plan always involves working with federal agents, including approximately 2,000 federal police who have patrolled the border since 2009. But he admits the strategy is flawed.
Coordination between the municipal police and federal police "doesn't exist," he said. "There is no coordination. They do their work on their side, and we do it on ours."
While in Tijuana, Leyzaola earned a reputation for going on the offensive against the cartels.
"We hope he can do the same here in Juarez," a Juarez police spokesman said when the new chief was sworn in.
But in Tijuana, Leyzaola's success was stained with accusations of human rights abuse, particularly torture during interrogations by his police force.
In Juarez, Leyzaola is already facing allegations of abuse from Human Rights Watch.
The group asked him to respond to accusations that police under his command in the so-called Delta Group were involved in the disappearance of four young men in Juarez in late March.
Leyzaola denies that he has broken any laws.
"You cannot combat crime with another crime," he said. Regarding some of the complaints about his office, he said, "People aren't used to applying the law."
Despite his attempt at a lower profile in Juarez, Leyzaola has received several public death threats since he took office. At one point, the mayor asked the local media to not publicize the threats so as not to embolden those making them.
In 2009, a similar thing occurred to Leyzaola when a drug gang in Tijuana declared war on him, threatening to kill five police officers per week until he stepped down. Leyzaola, a former colonel general in the Mexican Army, did not. Months later, Teodoro "El Teo" Garcia Simental, a leader of the gang that declared war, was captured by Mexican officials with Leyzaola's help.
During a recent trip to Juarez, Calderon claimed that crime in Juarez had fallen 60%, a figure that critics assailed as misleading and political.
Asked if the government in Juarez is winning the war against drug trafficking, Leyzaola preferred to remain silent. But he warned that to achieve a significant result against the cartels, it is necessary attack both the "head" and "body "of the criminal groups.
"We are going to advance and recover parts of the city," he said. "Criminals are subject to the authority, or they will be confronted."
In the end, Leyzaola firmly believes that for Juarez to begin its recuperation, the city's social decomposition must be addressed.
The people's trust in authorities, the economy and opportunities for youth all play a role in his view.
CNN's Mariano Castillo contributed to this report.
FOLLOW THIS TOPIC