Mexican police chief, officers charged with helping cartels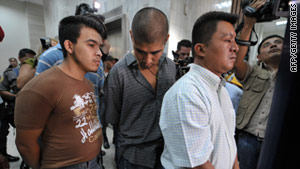 Alleged members of the Zetas drug cartel in a Guatemala court on May 26 charged with the murder of 27 peasants.
STORY HIGHLIGHTS
Ten local police officers, including a police chief, were arrested in central Mexico
Police corruption is a major problem in Mexico
Suspected traffickers gave information about corrupt officers
(CNN) -- Ten police officers, including a police chief, in central Mexico were arrested this week on charges of protecting the ruthless Zetas drug cartel, officials said.
The arrests highlight a constant handicap that police at all levels in Mexico face -- corruption that allows the violent drug gangs to carry out their crimes with impunity.
Municipal police departments, especially, are prone to corruption in their police ranks. Low pay and threats from the cartels are the most oft-cited reasons for police complicity.
The multi-day operation in HIdalgo state that led to the arrests started on Sunday when state officers were attacked during a patrol in the town of Huejutla, said Martin Vivar, spokesman for the Hidalgo state attorney general's office.
Authorities arrested six alleged drug traffickers in the incident. When questioned, the suspects said they operated in the area with protection from local police, Vivar told CNN.
The leads resulted in the arrests of seven police officers from Huejutla, and three arrests in nearby San Felipe Orizatlan, including the town's police chief, he said.
FOLLOW THIS TOPIC