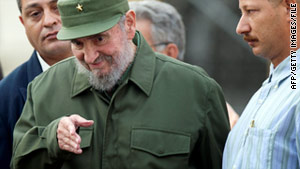 Former Cuban President Fidel Castro is seen in Havana in September 2010.
STORY HIGHLIGHTS
Longtime Cuban president says he felt "pride" over speech
Younger brother Raul Castro proposes radical policy switches
Politicians would have term limits
Ordinary Cubans could buy, sell homes and cars
Havana, Cuba (CNN) -- Fidel Castro, Cuba's historic leader, gave his successor and younger brother Raul a vote of confidence on Sunday with praise for a speech promoting a radical overhaul of the economy and term limits for political offices.
When President Raul Castro inaugurated a key summit of the Communist Party on Saturday, he took many by surprise when he declared leaders should be limited to two five-year terms in office, a surprising move in a country where one family has ruled for the last 52 years.
In a column published in state media on Sunday, Fidel Castro said his brotheršs words made him proud.
Cuba recalls Bay of Pigs, holds Communist Congress
He also praised the military parade to commemorate the 50th anniversary of Cuba's victory against a U.S.-backed invasion at the Bay of Pigs. The parade Saturday kicked off the Communist Party summit.
"It was all worth it to have lived to see the show today, and it is always worth remembering those who died to make this possible," he wrote.

Cuba remembers Bay of Pigs invasion

Cuba holds Communist Congress

Cuba celebrates
He said he experienced "the same feelings of pride" during his brother's speech, without giving any further details about the speech.
Fidel Castro also apologized for not attending the parade in person, but said he would not have been able to take three hours under the intense sun.
The elder Castro did not attend the inauguration of the party congress either, although he is expected to make an appearance when it comes time to talk about naming new leaders.
He said last month that he had stepped down as party chief when he fell ill in 2006 and had no intention of resuming the post.
The four-day Communist Party Congress, the first in 14 years, ­is intended to introduce sweeping economic changes.
Other key points raised during Raul Castro's 2 1/2-hour speech:
-- Laws regulating the buying and selling of homes and cars are in an "advanced stage." However, he warned that "the concentration of property" is directly opposed to the socialist principles of the country.
-- Laws allowing the self-employed and "the general population" to access credit are also being completed.
-- More than 200,000 Cubans have taken out licenses to open small businesses since October, when the private sector was expanded.
-- The ration book is an "unbearable weight on the economy" but won't be eliminated without first creating better economic conditions.
-- The Communist Party should not be involved in administration of the state, and leaders should eradicate the misconception that belonging to the Communist Party is a prerequisite for holding a government post.
-- There must be "systematic rejuvenation" of all key posts, including president and Communist Party chief . However, he warned that leaders have failed to prepare the younger generation to take over.
-- He reiterated his inclination to hold talks with the United States.
FOLLOW THIS TOPIC