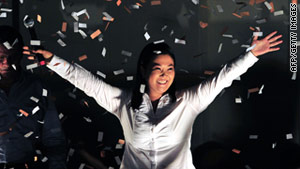 Keiko Fujimori has found votes by embracing her father's legacy in Peru.
STORY HIGHLIGHTS
Keiko Fujimori will face Ollanta Humala in a runoff for Peru's presidency
She is the daughter of disgraced former President Alberto Fujimori
The elder Fujimori figures into her campaign strategy
Some question whether she will bring back her father's circle
(CNN) -- "Chino! Chino! Chino!" is a familiar refrain at the rallies for Peruvian presidential candidate Keiko Fujimori, who on Sunday won the right to participate in a runoff election this June.
The chant is key to understanding her campaign, as "Chino" does not refer to her but to her father, disgraced Peruvian strongman Alberto Fujimori. The elder Fujimori is serving four concurrent prison sentences for corruption and human rights abuses, the longest of which is 25 years.
Alberto Fujimori is a polarizing figure in Peru, the country he led from 1990 to 2000. His strong hand is credited with defeating the Shining Path terrorists who destabilized the country, and his austere economic policies reined in hyperinflation. But stability had a cost, which in his case was an authoritarian streak that included the killings of civilians. After winning a third term whose constitutionality was challenged, he was finally brought down by a Andean-sized corruption scandal.
Rather than run away, Keiko Fujimori has found votes by embracing her father's legacy, a movement known as fujimorismo.
"Many journalists who have come from other countries are accompanying me today, surprised at the support that fujimorismo has," Keiko Fujimori said at her closing campaign speech. "And I tell them that a great part of the confidence that you show me is due to the memory, to the gratitude, for the works and successes of the best president in Peru, Alberto Fujimori. Let it be heard all the way to Diroes (the prison where he is held): applause for the Chino!"
Although her ascension may be embarrassing to large segment of the population, for others it represents a return to a time when those at the margins felt more included.
"The paradox of Peru is that there's been high growth but also high discontent," said Michael Shifter, president of the Inter-American Dialogue.
Since Alberto Fujimori left office, poverty has continued to decrease, and to a lesser extent, inequality, but that hasn't translated into high approval ratings.
Current President Alan Garcia did not take advantage of increased revenue to pursue social policies, Shifter said, and that alienated voters.
One of Alberto Fujimori's trademarks was to visit every corner of the country and carry out projects there, even small ones, said Jo-Marie Burt, a professor of government at George Mason University who was in Peru observing the electoral process.
"They have the memory of a president who at least did something concrete for them," she said.
Keiko Fujimori's parents split up while Alberto Fujimori was in office, and she, at age 19, assumed the role of first lady. Although it was largely a low-key and symbolic position, she managed some charities that she trumpets as executive experience today.
Keiko Fujimori is riding on those good memories in her campaign.
There are two Perus, Keiko Fujimori said at her closing speech: one Peru that grows and modernizes, and another that lives on the peripheries and has been forgotten.
She will work to maintain investment and economic growth, she said, "but above all I will work so that the growth reaches all corners of our country. So that they feel the presence of the state, so they know that there is a president concerned about everyone."
Her candidacy in the runoff poses a conundrum for those who vociferously opposed her father's dictatorial leanings. (His right-hand man was the powerful spy chief Vladimiro Montesinos, who operated a network of bribery and had knowledge of an extra-judicial death squad.) Keiko Fujimori's opponent is Ollanta Humala, a nationalist and leader of a failed uprising who critics say would bring about a Venezuela-like social revolution.
For the 42% of Peruvians who voted for a trio of similar centrist candidates who lost in the first round, a choice between Fujimori and Humala is unpalatable.
Some also question Keiko Fujimori's experience. At 35, she just made the age limit to be president. After serving as first lady, she studied in the United States, eventually earning an MBA at Columbia. She was elected to congress and served for several terms, though Burt says she didn't leave a very sizable record there.
Fujimori is expected to paint Humala as a radical leftist who will upend Peru's economic growth, and Humala will return the favor by flaunting the tainted image left by her father.
"I have a sense that this time, they may turn out for Keiko Fujimori," said Julio Carrion, a Peruvian professor of political science and international relations at the University of Delaware. "She will have an easier time convincing people to vote for her."
Though she is a strong supporter of her father's, she has distanced herself in some areas.
On her campaign website, Keiko Fujimori says that she was opposed to her father's controversial third run for office and that she wanted Montesinos, the spy chief, kicked out.
If she was opposed to her father's third term, she never publicly said it, Burt said. And Keiko Fujimori didn't turn her back on Montesinos until the very end of her father's regime, when the writing was on the wall, Burt added.
In 1992, Alberto Fujimori carried out a so-called self-coup, where he dissolved congress and suspended the constitution. In a March interview with Canal N, she carefully addressed this.
"It was a unique and exceptional moment, because we were seized by terrorism and hyperinflation. That is why my father decided to close down congress. But I would never do that," she said.
She may have a hard time convincing people of that by the advisers she has chosen.
"I think she would bring back a lot of people who served with her father," Shifter said.
One of the biggest questions, of course, is what Keiki Fujimori would do about her father. In a 2008 interview, she said she wouldn't hesitate to grant her father amnesty because she believes that he is innocent. She has since backed away from those remarks.
"Her support for her father's government is unabashed. She has no shame about it. I think she would pardon her father," Shifter said.
Still, amnesty may not be necessary. A habeas corpus petition on behalf of Alberto Fujimori has been filed on procedural grounds, alleging that his due process was violated. The Chino may ride on top once again.
FOLLOW THIS TOPIC