Arrests made in connection with Brazil school shooting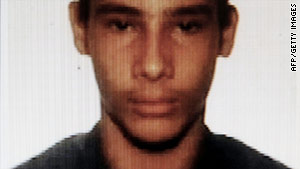 Authorities say Wellington de Oliveira, 23, killed 12 students at a Rio de Janeiro school Thursday before killing himself.
STORY HIGHLIGHTS
NEW: Demonstration Sunday calls for greater gun control
NEW: Gunman asks in suicide note for house to be converted into animal shelter
Two men who sold a gun used in the shooting were arrested
Twelve students were killed in the shooting
(CNN) -- Two men have been arrested in Brazil for allegedly selling a weapon to the gunman who opened fire at a Rio de Janeiro school last week, killing 12 students before turning the gun on himself.
The homicide division of Rio's police department made the announcement Saturday, the state-run Agencia Brasil news agency reported.
The motives behind why Wellington de Oliveira, 23, shot the students and himself remain unclear.
Locksmith Charleston Souza de Lucena is charged with helping de Oliveira acquire a gun. After he did a job for de Oliveira, according to police, de Oliveira asked where he could find a gun. Souza de Lucena introduced him to Isaias de Souza, who helped him secure the .32-caliber handgun used in the mass shooting, police said.
The origins of a second gun used in the shooting, a .38 revolver, remain unknown, police said.
Both men told police that they would never have sold de Oliveria the gun if they had known how he would have used it, Agencia Brasil reported.
Ten children remained injured in the hospital, the state health and civil defense secretary said. Those who were killed were buried on Friday amidst heavy commotion.
Meanwhile, no one has come to identify and claim de Oliveira's body, Agencia Brasil reported. If no one claims the corpse within 15 days, he'll be buried as an indigent.
Thursday's mass school shooting, which is rare in Brazil, has energized the country's anti-gun lobby. Twelve red flags were raised Sunday at a demonstration at Copacabana beach calling for greater effectiveness against weapon and ammunition trafficking.
"Where is the ammunition coming from? Where are the guns coming from? Are we safe?" event organizer Antonio Carlos Costa said, according to Agencia Brasil.
The principal of the school where the shooting took place said Sunday that he hopes to reopen the school April 18. Cleanup of the scene is scheduled to begin Monday, Luis Marduk said.
Also Sunday, the official TV Record posted a suicide note purportedly from de Oliveria, which included burial instructions. The note also asks that his house, which has been under police surveillance after vandals defaced it, be turned into an animal shelter "because the animals are being very despised and need much more protection and care than human beings."
Journalist Luciani Gomes and CNN's Marilia Brocchetto contributed to this report
FOLLOW THIS TOPIC