STORY HIGHLIGHTS
Jean-Bertrand Aristide returned Friday to Haiti, where he still has a following
But his critics say the father of Haitian democracy became a power-hungry leader
Some question his timing and motivations ahead of weekend election
(CNN) -- On a tarmac seven years ago in the Central African Republic, exiled Haitian President Jean-Bertrand Aristide invoked the name of Toussaint L'Ouverture, the slave general who led the Haitian revolution.
"I declare, in overthrowing me, they have uprooted the trunk of the tree of peace, but it will grow back because the roots are L'Ouverturian," he said, according to Paul Farmer, founder of Partners in Health and a deputy United Nations envoy to Haiti who wrote about Aristide's exile in 2004.
And perhaps it did grow back -- at least in Aristide's mind -- when he landed Friday on Haitian soil again, returning home from exile, he said, to help his troubled nation recover from devastating earthquake, a cholera epidemic and once again, months of political turmoil.
But the welcome mat is hardly out on every Haitian door.
Latest news on Aristide's return to Haiti
Aristide's reputation has fallen considerably since he was first catapulted to the presidency by almost 70 percent of the vote in 1990.
He was immensely popular then, a Roman Catholic priest who championed the poor in the hemisphere's poorest nation. "Titide," they called him. Haiti's savior, the first man to be popularly elected to office in the Caribbean's nation's tumultuous history.
From the beginning, his liberation theology, linked with left-wing governments in Latin America, irked the United States. But Washington supported the man who was elected in a nation that had not known democracy before and even brokered a deal to reinstate him as president in 1994 after a military coup forced him to flee just months after he took office.
Aristide served out his first term and stepped down in 1996 to be succeeded by Rene Preval, currently the outgoing president who was then an Aristide friend and ally, though the two men are no longer close.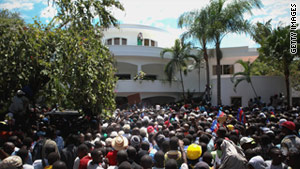 Supporters gather in front of the residence of former Haitian President Jean-Bertrand Aristide on Friday in Port-au-Prince.
Aristide again ran for office in 2001 and won, but his opponents charged that the election was heavily rigged.
By then, Aristide's support had waned. He was viewed by many as a man tarnished by power.
His critics, both within Haiti and abroad, accused him of widespread corruption and running an authoritarian government that relied on the brute force of thugs known as the "chimeres," which means "ghosts" in Creole.
Aristide brushed off the criticism in a 2004 CNN interview.
"How could we let thugs, gangs, (move) ahead with weapons in their hands? No," he said just days before he left Haiti for the second time.
He laughed at opposition claims that there was no way to conduct free and fair parliamentary elections as long as he was in charge.
He dismissed his former supporters who believed that he had fallen from the father of Haitian democracy to a power-hungry dictator. He insisted in the CNN interview that he was still working to improve conditions in Haiti, plagued by rampant poverty, unemployment and illiteracy.
"I am not tired of protecting human rights, of defending the rights of poor and rich," he said. "I am not tired of defending a democratic society. I am not tired of investing in human (beings). This is what we have as a program."
But a short while later, he was gone, flown to the Central African Republic on a U.S. jet. He says he was shuttled out because the United States did not want him in power anymore; Washington said it was the only way to save Haiti from the bloodshed and turmoil that had engulfed the island.
Aristide spent the past seven years living quietly in South Africa. Now and then, he voiced a desire to return to Haiti. He made that clear again after former dictator Jean Claude "Baby-Doc" Duvalier returned from exile in January.
Undoubtedly, Aristide retains a following in Haiti. His supporters came out Friday on the road to his home in Port-au-Prince to welcome their leader.
But others question why Aristide chose to return now, just two days ahead of a pivotal vote that will finally decide Haiti's next president.
Washington expressed its concern over Aristide's return, saying that his presence would prove destabilizing. Aristide's U.S. attorney Ira Kurzban said Aristide has no intention of getting into politics.
Many Haitians say they need someone at the helm who has the mettle to lead Haiti from crisis.
Aristide's ardent supporters still believe that he is the only man who can do so. A lot could depend on whether Aristide feels the same.
FOLLOW THIS TOPIC