Veteran of Tijuana drug wars to lead Juarez police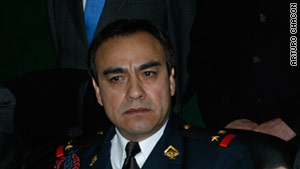 Former Baja California state police chief Julian Leyzaola is the new chief of Ciudad Juarez.
STORY HIGHLIGHTS
Julian Leyzaola is credited with taking down a major drug boss in Tijuana
"We hope he can to the same here in Juarez," a police spokesman says
Ciudad Juarez, Mexico (CNN) -- A former police chief known for battling drug gangs in the Mexican border city of Tijuana has been named the new top cop in Ciudad Juarez, another city plagued by cartel violence.
Former Baja California state police chief Julian Leyzaola "is our new boss," Juarez police spokesman Adrian Sanchez said Thursday. Sanchez said Leyzaola was credited with cleaning up Tijuana during his tenure there, and "We hope he can do the same here in Juarez."
Battles among rival drug gangs were blamed for more than 3,000 killings in Juarez in 2010.
Leyzaola launched a public battle with one of Mexico's most wanted drug traffickers, Teodoro "El Teo" Garcia Simental, after he took office in Tijuana in 2008. Garcia's cartel threatened to kill five police officers a week until Leyzaola resigned -- but by January 2010, Garcia was behind bars.
Leyzaola survived a series of assassination attempts and moved his family out of Mexico for a period of time, sleeping on an army base during that period.
CNN's Nick Valencia contributed to this report.
FOLLOW THIS TOPIC