21 oil workers rescued in Colombia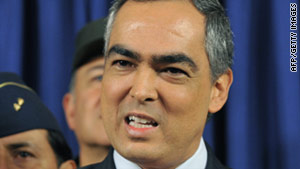 Defense Minister Rodrigo Rivera (pictured in September 2010) said 21 kidnapped oil workers have been rescued.
STORY HIGHLIGHTS
Twenty-one hostages are rescued
The victims were Colombian nationals, according to the energy company
Troops from the Colombian military have been looking for them
Colombia's army says it appears members of the FARC guerrilla group are responsible
(CNN) -- Twenty-one of 23 oil workers kidnapped in Colombia have been rescued by authorities, Colombian Defense Minister Rodrigo Rivera said Tuesday.
Troops had been searching for the workers since Monday, when they were kidnapped by armed men in eastern Colombia, the country's army said in a statement.
The kidnapping was reported around 4 p.m. Monday in Colombia's Vichada province, the army said. Authorities said it appeared those responsible were members of the FARC leftist guerrilla group.
Army officials said the victims were working for Canada-based Talisman Energy. In a statement released late Monday, Talisman confirmed that 22 employees of seismic contractor South American Exploration had been kidnapped.
As of Tuesday, a discrepancy remained between 22 the energy company said were kidnapped and the 23 the government said were kidnapped.
The workers were Colombian nationals, "and most are members of the indigenous communities of the area," Talisman's statement said.
A representative of South American Exploration could not be reached for comment early Tuesday.
"Talisman and Ecopetrol are cooperating with the Colombian authorities and the contractor," Talisman's statement said. "The top priority is to provide any required support so these Colombian nationals can be reunited with their families as soon as possible."
The army pledged to provide "troops and necessary resources that permit the safe return of the kidnapped to their homes."
The FARC, or Revolutionary Armed Forces of Colombia, has been at war with the Colombian government since the 1960s.
Colombian President Juan Manuel Santos issued a new warning to the group last week, according to a statement released by his office.
"I say this to the members of the FARC who still think that they are going to achieve something through weapons, I say that the only future that is left for them if they continue with the violence will be a tomb or a jail," he said.
Journalist Fernando Ramos contributed to this report.
FOLLOW THIS TOPIC