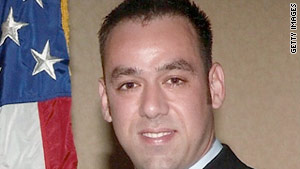 Special Agent Jaime Zapata was shot and killed February 15 while traveling between Mexico City and Monterrey.
STORY HIGHLIGHTS
Two U.S. agents attacked and shot in Mexico were unarmed, one agent died
They were following Mexican law, which prohibits foreign agents carrying weapons
Mexican President Calderon has been on a visit on Washington
The issue of Mexico's prohibition against armed foreign agents has come up for discussion
(CNN) -- It's a question that will probably never be answered: Would guns have made a difference?
It was the middle of the afternoon on Tuesday, February 15. U.S. Immigration and Customs Enforcement agents Jaime Zapata and Victor Avila Jr. were traveling on a busy highway in an armored car with diplomatic plates in the north central Mexican state of San Luis Potosi.
Suddenly, they were run off the road and attacked from two vehicles by a group of heavily armed men who opened fire indiscriminately.
Zapata died. Avila survived a gunshot wound to a leg.
The incident prompted swift action by Mexican authorities. Eight days after the shooting, the leader of a gang tied to the drug cartel known as Los Zetas was caught as a suspect in the shooting, as well as five other men.
Because of provisions under Mexican law, foreign diplomats or agents are barred from carrying weapons or engaging in law enforcement activities while on Mexican soil.
Zapata and Avila were complying with the law as they traveled back to Mexico City from a meeting they had held in Monterrey with other U.S. immigration personnel. During the attack, authorities say they identified themselves as diplomats, but the gunmen still opened fire.
It was an issue addressed by Mexican President Felipe Calderon during a two-day visit to Washington.
At a press conference Thursday after a meeting with President Barack Obama at the White House, Calderon condemned the violent act and gave his condolences to Zapata's family.
Changing the law to allow foreign agents to carry weapons in Mexico, the Mexican president said, would be extremely difficult. "We definitely have to find a way to elevate the level of protection for all agents who, according to law, work against criminality. We will, of course, analyze alternatives and talk to the Mexican congress, which ultimately has the last word," Calderon said.
President Obama said cooperation between the two countries in law enforcement is a work in progress. "And we're constantly refining how we do that in a way that is respectful of Mexico's sovereignty. And obviously, I'm concerned about our own agents who are down there," said Obama.
He went further, adding that procedures and protocols regarding how U.S. agents travel throughout Mexico will be reviewed. "We'll be working in close contact with Mexican law enforcement, who I'm sure, will have important advice in terms of how we operate in the region," Obama said.
According to officials, there are 30 U.S. Immigration and Customs Enforcement agents working in Mexico City, all unarmed. They work on a range of issues including drug trafficking, weapons smuggling, money laundering, and illegal immigration. Zapata and Avila were the first ICE agents to be gunned down in Mexico.
This week, U.S. Attorney General Eric Holder said that in the wake of the shooting in Mexico this month, he's considering asking Mexican authorities to allow U.S. federal agents working there to be armed.
In another twist to the story, the Bureau of Alcohol, Tobacco, Firearms and Explosives found this week that the weapon used in the fatal attack against the agents in Mexico -- an AK-47 rifle -- came from the United States. ATF agents arrested three men in a Dallas suburb in connection with the purchase of weapons that were smuggled into Mexico, the agency said in a news release. Ranferi Osorio, 27, and his brother Otilio Osorio, 22, were arrested as their home in Lancaster, Texas. Their next-door neighbor, Kelvin Morrison, 25, was also arrested.
The issue of whether to allow armed foreign agents in Mexico is another difficult question for Calderon as he continues an offensive against organized crime that has claimed the lives of more than 34,000 Mexicans since he took office in December 2006.
Stephen Johnson, director of the Americas Program at the Center for Strategic and International Studies, says that while doing this, Calderon has also had to introduce badly-needed institutional and democratic reforms.
"It's like trying to repair your airplane in flight," Johnson said. "That's a very difficult challenge, not only for him but members of his cabinet and the Mexican congress."
FOLLOW THIS TOPIC