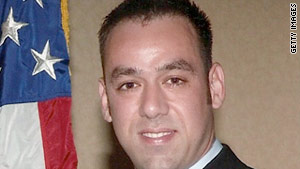 Special Agent Jamie Zapata was shot and killed February 15 while traveling between Mexico City and Monterrey.
STORY HIGHLIGHTS
NEW: Mexican authorities parade six men before news media
NEW: Also detained were three women and a minor
U.S. agent Jaime Zapata was killed on the job on February 15 in Mexico
A cell of The Zetas drug cartel is believed to have been behind the hit
(CNN) -- Mexican officials announced Wednesday that they have arrested the presumed leader of a group of killers involved in this month's shooting death -- apparently carried out by mistake -- of a U.S. immigration agent in Mexico.
Col. Ricardo Trevilla, a spokesman for the Secretary of National Defense, said Julian Zapata Espinosa, alias "El Piolin," was the leader of the group, which he described as a cell of the the Zetas drug cartel.
Mexican authorities paraded Zapata and five other men before the news media. Also arrested were three women, including Zapata's wife, and a minor, he said.
U.S. Immigrations and Customs Enforcement agent Jaime Zapata was killed and fellow agent Victor Avila was wounded in the February 15 ambush on a highway in the Mexican state of San Luis Potosi.
Trevilla, who credited military intelligence for the arrests, said the killers were "confused by the aspects of the vehicle" in which the ICE agents were seated. "They thought it was owned by a rival group."
Two other men, whom he identified as Jesus Ivan Quesada Pena and Ruben Diario Venegas of Honduras, also participated in the killing, Trevilla said. Also arrested were Armando Alvarez Saldana, Mario Dominguez Realeo or Domingo Diaz Rosas and Martin Barcenas Tapia, he added.
The women were identified as Diana Margarita Guerrero Morales, Roxana Mierya Rios Velazquez and Magli Chain Castillo Lopez, who was identified as Zapata's wife. The minor was not identified.
Authorities seized five vehicles, 41 magazines, means of communication and "diverse documentation," he said.
A spokeswoman for the U.S. Justice Department expressed gratitude to Mexican authorities for their efforts.
"From the moment this tragedy occurred, our Mexican counterparts have worked closely with both the Departments of Justice and Homeland Security, and the law enforcement cooperation seen in this investigation thus far demonstrates how working together toward common goals serves the interests of both countries and of our citizens," said Laura Sweeney in a statement.
"We will continue to uphold our united commitment to breaking the grip of these violent transnational criminal organizations. Here at home, we will continue to increase pressure against cartel-related activities while we also cooperate with and support our colleagues in Mexico."
On Tuesday, at Zapata's funeral, U.S. officials vowed justice for his killers.
According to U.S. Rep. Michael McCaul, R-Texas, who said he was briefed by immigration authorities, the pair had been traveling to Mexico City when two vehicles bracketed them and ran them off the road.
Though the two agents identified themselves as diplomats, the men opened fire.
It was the first time in 25 years that a U.S. law enforcement agent was killed while on duty in Mexico.