Brazil sues ex-president, ex-minister over letters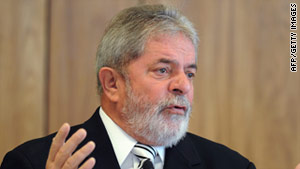 Former Brazilian President Luiz Inacio Lula da Silva has been sued by federal prosecutors in Brazil.
STORY HIGHLIGHTS
Prosecutors say $5.7 million in public funds misused
Money used to send millions of letters to retirees
Letters promoted low-interest payroll loans
(CNN) -- Federal prosecutors in Brazil have filed suit against former Brazilian President Luiz Inacio Lula da Silva and a former Cabinet minister, charging them with misusing public funds to send more than 10 million letters to retirees telling them about low-interest payroll loans from Banco BMG, according to the state-run Agencia Brasil.
Prosecutor Luciana Loureiro Oliveira said the letters, sent in 2004, served no public interest and were sent 10 months after the law was passed allowing the loans, the news agency said.
"At the time of dispatch of letters, the only 'new thing' was the financial institution recently contracted and able to make the loans, namely, Banco BMG," the suit says, according to Agencia Brasil.
Oliveira told the agency that prosecutors believe the purpose of the letters was merely self-promotion, praising the law and at the same time benefiting Banco BMG, which was the only bank approved to provide the loans.
The prosecutors seek to compel Lula and former Social Security Minister Amir Lando to refund the amount spent on the letters, about $5.7 million (9.5 million Brazilian reais).
Agencia Brasil said that Lula's office said he is traveling and will not comment until his legal team has reviewed the lawsuit. The office for the former minister was not available for comment.
FOLLOW THIS TOPIC