Official: Man who killed 3 defending his home is gunned down in Mexico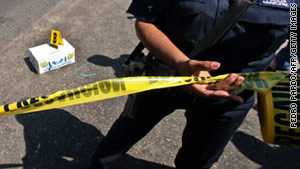 Alonzo Sandoval and his wife were killed Tuesday at his auto parts store located outside of Ciudad Juarez.
STORY HIGHLIGHTS
Sandoval and his wife killed at his auto parts store, the prosecutors' office says
Agents checked in on the business six to eight times a day, an official says
Sandoval was killed after police had left the business
(CNN) -- A man who became a local hero after killing three armed men while defending his Ascension, Mexico, residence during an attempted home invasion last month was killed Tuesday -- and authorities are investigating whether the two incidents are related.
Alonzo Sandoval, 50, and his wife were killed around Tuesday evening at his auto parts store in Puerto Palomas de Villa, about two hours outside Ciudad Juarez, a spokesman with the Chihuahua state prosecutors' office said.
"Police agents were assigned to monitor his business for protection, but he refused because he said the agents would scare away customers," said spokesman Arturo Sandoval. "We sent agents there anyway to make rounds by his business about six to eight times a day."
Sandoval -- who is not related to the spokesman -- was killed about 30 minutes after police left the victims' business, the spokesman said.
"He lawfully defended his property and his family and now he is dead. We cannot concretely say one event had to do with the other, but it is part of our investigation," Sandoval, the spokesman, said.
The attempted home invasion took place January 29. Sandoval "lawfully" defended his home with a gun that was legally registered to him, the prosecutors' office said.
FOLLOW THIS TOPIC