Ecuador president pushes for referendum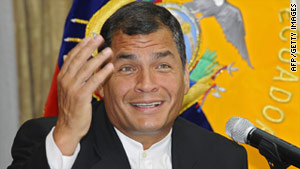 Ecuador's President Rafael Correa seeks to change the country's constitution through referendum.
STORY HIGHLIGHTS
President Correa wants to revamp the judicial system, which he says is corrupt
Correa is calling for a special commission to restructure the judiciary
Critics say he is trying to consolidate power
(CNN) -- Ecuador's president appealed to citizens in a televised address, saying that the constitutional changes he seeks are in the best interest of the country.
Rafael Correa took to the airwaves Monday night to elaborate on a list of 10 questions that he wants the people to vote on in a referendum. Before a referendum can take place, the country's constitutional court must review the questions, which Correa submitted on Monday.
"Trust in the government," Correa told his country.
He vowed that he would resort to referendums "as many times as necessary" to push the reforms that he says the country must make.
"We are willing to give our lives, as we have demonstrated. We will trust in the sovereign expression of the people at the polls," he said.
The president appeared to refer to a September incident in which police attacked him in response to the belief that he was going to take away their bonuses and reduce their compensation. Correa was roughed up and hit by tear gas.
Troops rescued him in a dramatic shootout with officers at a hospital where he was held for more than 10 hours.
The proposals announced by Correa that would appear on the referendum would revamp the country's judicial system, which Correa says is corrupt.
One of the measures proposes the creation of a special commission consisting of delegates selected by the president and the congress to restructure the judicial system. Another proposed measure asks for the modification of the makeup of the country's judicial council.
"The judicial council has not performed its function because of its commitment to timidity and indecisiveness," Correa said.
He said the special commission would have the power to evaluate and sanction judges with the goal of eliminating corruption.
Critics, however, say that the proposed referendum is simply a move by the president to consolidate power over the other branches of government.
Correa said that without a restructuring of the judicial system, "the country will not come out ahead, and will not achieve the much-desired public security."
Five of the questions on Correa's list are amendments to the constitution. The other five are more general initiatives that would change existing laws or create new ones.
Other proposals that Correa is floating include prohibiting banks and media companies, and their principal shareholders, from owning stock in companies outside their industry.
Among others are calls for gambling to be declared illegal and for public shows where animals are killed to be banned.