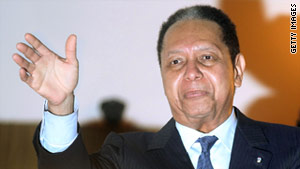 Jean-Claude Duvalier was moved to return by the anniversary of the earthquake, an associate says.
STORY HIGHLIGHTS
Jean-Claude Duvalier assumed power from his father in 1971
He ruled for 15 years before he was ousted by popular protests
Baby Doc was accused of corruption and repression
He returned to Haiti Sunday after 25 years
(CNN) -- When Jean-Claude Duvalier became Haiti's "president for life," it wasn't meant to be.
Now, nearly 25 years after being ousted, observers are wondering if the former dictator is preparing for a second act. The Duvalier unexpectedly returned to his homeland Sunday, as details of what he hopes to accomplish remain unclear.
Nicknamed "Baby Doc," Duvalier inherited the title of "president for life" in 1971 upon the death of his father, Francois "Papa Doc" Duvalier, who had ruled with an iron fist through his paramilitary force, the Tonton Macoute.
Just 19 years old when he came to power, Baby Doc became one of the world's youngest heads of state.
Haitians initially celebrated his ascension, thinking the young man would be less oppressive than his father, said Marjorie Valbrun, a Haitian-American writer and contributor to The Root and America's Wire.

Recalling abuses of Duvalier regime

Jean-Claude Duvalier returns to Haiti

'Baby Doc' Duvalier returns to Haiti
"But that didn't turn out to be the case," she said.
Duvalier used his father's security apparatus to continue ruling in a totalitarian fashion.
A chunky young man when he assumed power, Duvalier didn't look the part of a dictator, said Robert Pastor, a Latin America national security adviser for President Jimmy Carter in the late 1970s.
In fact, there was speculation that his father's cronies and security forces were in charge.
"The Tonton Macoute and security people around him were running the country at least as much as he was," Pastor said.
During the 15 years of "Baby Doc's" rule, "there was no political space whatsoever," he said. "He kept the place in complete repression." This included the torture of opponents and the taking of political prisoners.
There were also allegations that Duvalier was corrupt. There was no question that when he was ousted in 1986 he had amassed a large fortune, Pastor said.
Valbrun, who has spent time with Duvalier, wrote that "Baby Doc" embezzled at least $500 million from Haiti during his rule, citing Haitian government officials and lawyers, and American officials. She described a life of luxury that Duvalier lived in France after the protests that pushed him out of power, and how that money eventually ran out.
When Duvalier and his wife left Haiti for the last time in 1986, "when they were walking out, the people jeered at them and cursed them," Valbrun said. He would not return until Sunday.
Subsequent Haitian administrations have said that Duvalier would be arrested to face charges if he ever returned, though no such move against him had been made as of Monday evening.
During his long absence, Haiti was always on his mind, Valbrun said.
He woke up every day and talked to supporters in Haiti and checked the Haitian media, she said. He also had a website for his supporters.
In Haiti on Monday, an associate of Duvalier said that he had returned because he was moved by the one-year anniversary of the devastating earthquake in Haiti, and because he was homesick.
Read more about Duvalier's return to Haiti
Pastor said that it wasn't far-fetched that these may be the reasons for his return, but that it would be naive to think that there aren't other motives as well.
"Baby Doc" arrives at a time of political and social crisis in Haiti. A scheduled runoff election for the president that was to take place Sunday was postponed because of a review by the Organization of American States that showed that one spot in the runoff was given to the wrong candidate.
"It does create a lot of problems for an extremely weak government that is trying to assess whether the election process should go on or not," Pastor said.
It is not a good time for the current government to address his presence, he said.
"It's surprising that he came back now, but I knew that he wanted to come back and that his heart was still in Haiti," Valbrun said.
FOLLOW THIS TOPIC