Castro weighs in on Arizona shooting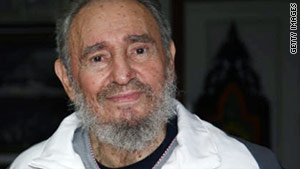 Former Cuban leader Fidel Castro called the Arizona shootings "an atrocious act" in a column published Monday.
STORY HIGHLIGHTS
Castro refers to the mass killing as "an atrocious act"
The former Cuban leader takes a swipe at the far right
(CNN) -- Former Cuban leader Fidel Castro weighed in on the Arizona mass shooting that killed six and injured 14, including Rep. Gabrielle Giffords, in a column distributed Monday.
The column, titled "An Atrocious Act," condemns the shooting, but Castro didn't miss the chance to criticize the right wing of U.S. politics.
He said Giffords was an enemy of the Tea Party and described her as a supporter of immigration reform, stem cell research and alternative energy, "measures that are hated by the far right."
But despite the differences between the United States and Cuba, the Communist former president said he was saddened by the news.
"Even those of us who don't share his (President Barack Obama's) political or philosophical ideas in the least sincerely hope that no children, judges, congressmen or any U.S. citizen should die in such an absurd and unjustifiable way," he wrote.