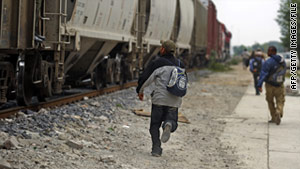 Migrants trying to reach the United States by traveling through Mexico face a dangerous trip.
STORY HIGHLIGHTS
Central Americans traveling through Mexico toward the United States are often targeted
Belkis Nunez considers herself lucky to be alive after armed robbers attack her group
Dozens of migrants are missing or dead from two other attacks
(CNN) -- At a shelter near Mexico City, Belkis Nunez is recovering.
She's lying down on a bunk bed at the San Juan Diego Migrant House in Tultitlan, just north of the Mexican capital. The Honduran migrant says she's lucky to be alive: She was traveling on a cargo train in southern Mexico with other migrants when a group of armed men assaulted them.
They were held at gunpoint and threatened. All were robbed and one of assailants held Nunez captive.
Nunez, 23, says she had no option but to obey her captor's orders. He was demanding money.
"And then I told him, 'I'm not carrying any money, not at all. I'm with them.' And he asked me 'Which one of them is in charge of you?' 'No one; we're just all together.' And then he said 'OK, you women are always putting the money in your privates or in condoms," Nunez says.
The group of Central American migrants was traveling on "The Beast," a noisy, often-dangerous cargo train that rumbles through Mexico. It is used by migrants to reach the U.S. border.
Mexican authorities say they're investigating the incident. Salvador Beltran del Rio, head of the Mexican Institute of Migration, says his agency is helping the migrants.
"Here in Mexico City we have 13 people. Twelve have said that they witnessed the incident," Beltran said. "They have given their statements to the National Human Rights Commission first and then to the National Migration Institute."
In a separate incident, 50 Central American migrants who were apparently kidnapped in mid-December are still missing. The case was brought to the attention of authorities by Alejandro Solalinde, a Catholic priest who operates a shelter for traveling migrants in the southern Mexican state of Oaxaca.
Last summer, 72 migrants who were trying to reach the United States by traveling on the ground in Mexico were shot and killed in the border state of Tamaulipas. The migrants came from Central and South American countries including Honduras, El Salvador, Brazil and Ecuador, according to Alejandro Poire, Mexican national security spokesman.
The victims had been tied by the hands. The ranch where they were found was only 100 miles away from the U.S.-Mexico border. An 18-year-old Ecuadorian national survived the massacre and notified authorities.
The lead investigators in the case went missing shortly after the discovery of the migrants was made on August 24. The bodies of Jaime Suarez Vazquez and Juan Suarez Sanchez, deputy public investigator and secretary of public safety in San Fernando, Tamaulipas, were found in early September.
Mexican investigators said at the time that Los Zetas, a Mexican drug cartel, might have been responsible for the massacre.
The disappearances and killings of Central and South American migrants is creating tension between Mexico and the Latin American countries from which the migrants originate.
The governments of Central American countries like Guatemala, Honduras and El Salvador are asking Mexico to thoroughly investigate disappearances, abuses and deaths of their citizens in Mexican territory. Mexican officials say they're doing everything in their power to protect the migrants.
Back at the shelter, Nunez says this was the second time she had tried to reach the United States hidden in The Beast and she will probably try again.
She has a very powerful reason: Her son is waiting for her in America. She says that's why she didn't think twice about risking her life along with the other Central American migrants.
Mario Gonzalez in Mexico City contributed to this report
FOLLOW THIS TOPIC