STORY HIGHLIGHTS
NEW: Spokesman: Revolutionaries control 80% of Bani Walid
More than 20 revolutionary fighters are killed in Sirte on Sunday
NTC: Anti-Gadhafi forces aren't firing back in Sirte for fear of killing innocent people
Residents in southern Libyan towns celebrate freedom from Gadhafi
Winzrik, Libya (CNN) -- Revolutionary forces in Libya suffered a sizable blow after more than 20 fighters were killed in the northern city of Sirte Sunday, the country's transitional government said Monday.
Another 31 fighters were injured, said Abdel Rahman Busin, a spokesman for the National Transitional Council.
Sirte is the hometown of ousted Libyan ruler Moammar Gadhafi and is among a handful of pro-Gadhafi strongholds left in the country.
"The injured revolutionaries in Sirte have all been hit with RPGs (rocket-propelled grenades) fired from areas congested with civilians where Gadhafi loyalists are hiding," Adel Ghulaek, spokesman for the NTC in Misrata, said Monday. "Our men are not even firing back because they do not want to kill any innocent people. Two helicopters evacuated the injured fighters last night."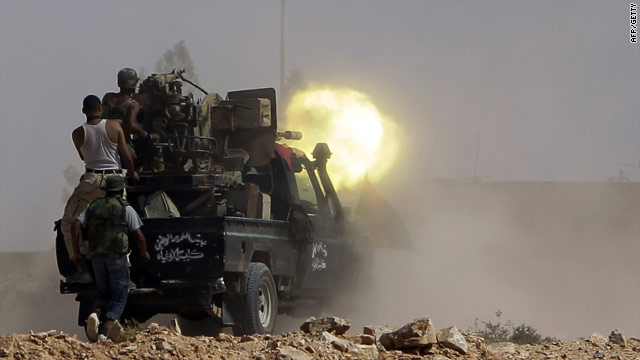 Libya opposition less willing to give up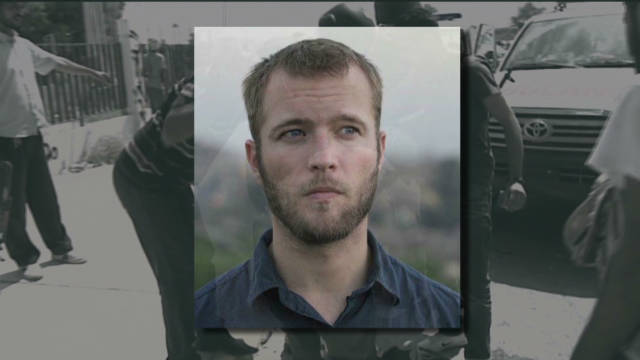 CNN journalist injured in Sirte attack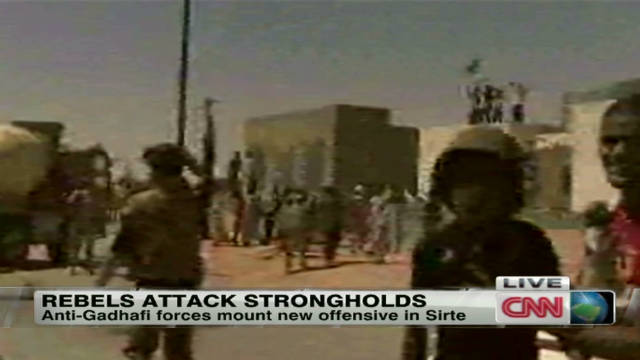 Rebels attack Libyan strongholds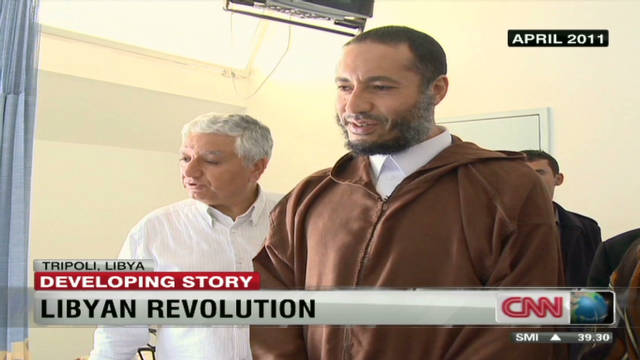 Will Gadhafi's son return to Libya?
Meanwhile, revolutionaries "control 80%" of the contested northern city of Bani Walid, said Abdallah Kenshil, another NTC spokesman who also is serving as a negotiator in the city.
"Gadhafi loyalists have the advantage of the geography -- the mountains are an obstacle for us," Kenshil said Monday. "They are firing from mosques and civilian homes."
Kenshil said some pro-Gadhafi fighters are mercenaries from other African countries.
While anti-Gadhafi forces struggled in northern Libya, a ragtag stream of civilians-turned-revolutionaries encountered scant resistance as they swept through oasis towns east of Sabha -- another pro-Gadhafi stronghold -- on Sunday.
Locals in the southern Libyan town of Winzrik rejoiced as anti-Gadhafi forces drove through town.
"Raise your head high, you're a free Libyan!" chanted residents in the town suddenly freed from Gadhafi's control.
Locals waved the pre-Gadhafi Libyan flag as revolutionary fighters swept through the area.
"I can't explain -- the feeling is wonderful," Muhannad Zarouq said. "Many emotions -- I'm so happy. I'm so glad."
But some have doubts about the revolution in a part of the country traditionally loyal to Gadhafi.
"What happens after the men with guns move on is still unclear," university physics student Mohamed Arhuma said.
The whereabouts of Gadhafi himself still are unclear.
But a man identified as Gadhafi's spokesman, Musa Ibrahim, insisted that pro-Gadhafi forces will be victorious.
"We will defeat them in a way they never would have imagined," he said on Al Rai TV, a Syrian-based station that airs pro-Gadhafi statements. "We have God and we have millions (of followers). ... We have decided it's either victory or martyrdom."
He added, "Tell the world that our nation will not surrender to gangs and it will not give them legitimacy. We will liberate Libya and return it to its true Islamic and Arabic state."
Al Rai said the comments aired Sunday were live, but it was not clear where Ibrahim may have been as he spoke.
CNN's Ben Wedeman and Yasmin Amer and journalist Mohamed Fadel Fahmy contributed to this report.
FOLLOW THIS TOPIC