Death toll rises to 96 in Kenya pipeline blast
STORY HIGHLIGHTS
Rescuers are still scouring the muddy waters of a nearby river
They are looking for bodies of people reported missing, official says
The pipeline exploded Monday morning in the Sinai slum
Nairobi, Kenya (CNN) -- The death toll has gone up to 96 after a gas pipeline leaked fuel and exploded this week in a densely populated slum in the Kenyan capital, Red Cross officials said Thursday.
More than 100 people were hospitalized with burns.
Rescue crews are still scouring the muddy waters of a nearby river for bodies of people reported missing.
"We're not expecting to find anyone alive, but there are people still missing relatives," said Peter Chege, who works for the Red Cross. "We are using rods to poke the waters to see if there are bodies because we don't have specialized equipment."
Chege said one body was retrieved from the waters Wednesday.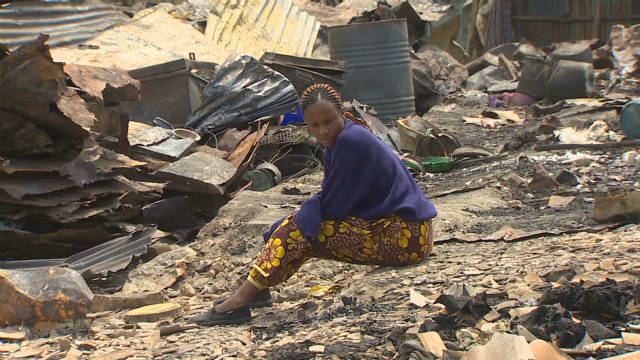 Dozens killed in Kenya slum fire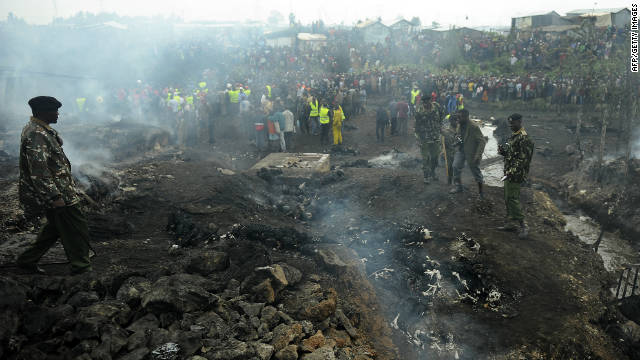 Blast victims burned beyond recognition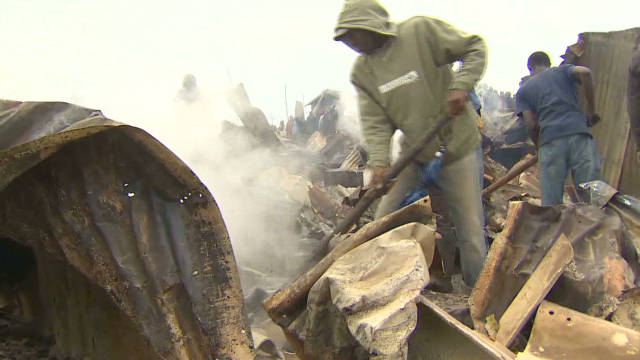 'So many are burnt beyond recognition'
"While the stream is not that deep, the waters are too murky to see the bottom," he said.
The pipeline exploded in the densely populated Sinai slum in Nairobi on Monday, flattening tin shacks and reducing some bodies to ashes.
Red Cross officials said some people may never be accounted for because they were completely burned.
It is unclear what caused the accident, but some residents said the pipeline burst, gushing gasoline that ignited as residents were fetching it.
Authorities suspect the pipeline was punctured in an effort to steal fuel, police spokesman Eric Kiraithe said.
Fatalities from fuel leak accidents are common in Kenya.
Scores of residents scramble to scoop up fuel whenever there is a leak or a tanker is involved in an accident.
In 2009, more than 100 people died in a fire after an oil tanker overturned in western Kenya. In that incident, someone trying to take some of the fuel lit a cigarette, starting the fire.
In the same year, the Kenyan newspaper, The Daily Nation, warned of fire risks in the Sinai slum, where residents built shanties and a church near the pipeline.
Deputy Prime Minister Uhuru Kenyatta has said the government will aid victims of the fire and investigate the cause of the incident.
CNN's Andreena Narayan, Faith Karimi, Lillian Leposo, Helena DeMoura and Kim Chakanetsa contributed to this report.
FOLLOW THIS TOPIC