STORY HIGHLIGHTS
Black Sub-Saharan African migrants are being rounded up in Tripoli

Some are believed to have been mercenaries hired to fight for Gadhafi

But many moved to the country years ago for work

At a port near Tripoli a makeshift camp is now home for 1,200 of them
Tripoli, Libya (CNN) -- Away from Tripoli, away from the fighting and largely away from any aid, hundreds of immigrants are living in an abandoned harbor.
They are living on scraps, in poor sanitary conditions, and fearful of being mistakenly identified as mercenaries who fought for the ousted Libyan leader Colonel Moammar Gadhafi.
In one cooking pot a chicken lies at least a quarter covered in flies. Until recently there has only been salt water available. And there are dark tales of women being dragged away in the middle of the night to be raped by armed gangs.
An estimated 1,200 men, women and children have turned the upturned fishing boats at Janzour harbor into a makeshift camp of tents and boats.
Pretty much all of them are black Sub-Saharan African immigrants who moved to Libya for casual or manual jobs, from places like Chad, Ghana, Nigeria or Mail.
Now their skin color is making them a target for the new power in town who say black Africans also came to Libya to fight as mercenaries for Gadhafi. During the fighting CNN has interviewed such fighters on several occasions.
Under Libya's searing daytime heat they wait at Janzour for help and a way out.
When the fighting first reached Tripoli, these immigrants say they left for the quiet harbor area about 15 kilometers out of the capital. They hoped aid would come in through Janzour and possibly a route home, or at least a boat out of Libya.
But they were left to fend for themselves. Only last week did Red Cross aid, including drinking water and soap, get to them.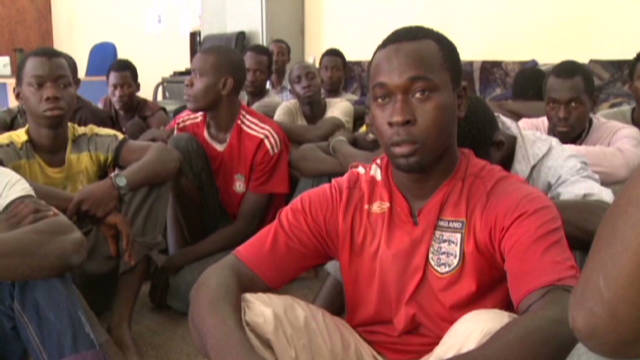 Suspicion hangs over migrants

Suspected loyalists to Gadhafi jailed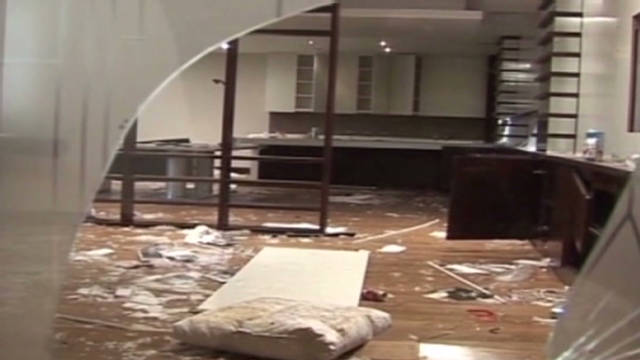 Inside a Gadhafi safe house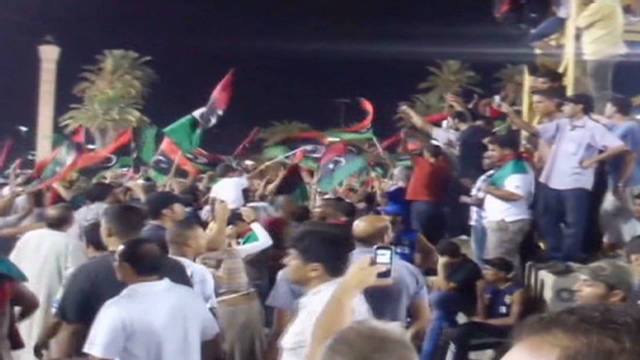 Documenting mission of mercy to Tripoli
One woman says she has seen armed men pick out women and take them away to be raped. Others at Janzour told CNN similar stories.
A Nigerian immigrant said: "I've lost all I have, all my work I've lost them. I'm homeless, I'm moneyless. I don't have anything so I can't go back to my place, so I need the international body to do something about this ugly situation."
The International Red Cross knows the problem but can't promise a solution. Spokesman Souad Messaoudi said: "We have submitted a report with recommendations and we remind all parties that it is very important to respect these people and protect these people."
Libya's African immigrants are a legacy of Gadhafi's rule and his pan-African ambitions, not just his desperate fight for survival this year.
He invested millions of dollars into Sub-Saharan Africa; he paid a big chunk of the budget of the African Union, and he welcomed Sub-Saharan Africans into his Arab country for work.
Up to one-fifth of Libya's six million population are migrants.
They are the people who don't historically have roots in Libya but they came as people made welcome by Gadhafi. And that welcome has turned against them.
The U.N. and human rights groups have reported summary executions and harsh detention of black Africans. The International Organization of Migration is evacuating black Africans and other migrants who want to leave. In Tripoli, the former rebel soldiers of the National Transitional Council admit they are rounding up black immigrants as a priority. Many are civilian workers who have lost or don't have official paperwork but others are possible mercenaries.
Anyone picked up at the checkpoints littering Tripoli's streets are first taken to a local military council, and from there to detention centers in the capital run by the Benghazi Brigade or Tripoli Brigade.
Hamed Isbaq, a member of the Benghazi Brigades in Tripoli, said: "It is possible that we pick up anywhere from 50 to 100 people daily. The people that have come in anytime in February or after and do not have legal residency, those have a special investigation."
He admitted "dark skins" are the ones most likely to be picked up.
Detainees who can find a Libyan to vouch for them are released. If the detainee cannot do that then they face the prospect of a trial -- and detention until trial, in a land where the legal system is in shambles.
When CNN visited the center there was no suggestion of mistreatment but at the same time it was clear most of the detainees were black Sub-Saharans.
The NTC military took us to see six Sub-Saharan Africans who were being held on suspicion of being mercenaries from Nigeria, Mali and Chad. Four were later released. Two others were waiting to find their fate.
The National Transitional Council, which is trying to build a new Libya, has urged its fighters to avoid revenge.
Human rights groups say the migrants are being harassed because of their skin color --- a form of racial profiling it can get away with because of Gadhafi's mercenaries.
FOLLOW THIS TOPIC