STORY HIGHLIGHTS
More than 500,000 children are on the brink of starvation in Mogadishu
As far as the eye can see, makeshift shelters sprawl out across the city
New arrivals build shelters from twigs, cardboard, and scraps of old clothing
People sit on the floor of the main hospital -- there are no beds or chairs available
Cassandra Nelson has been an aid worker with the international humanitarian aid organization Mercy Corps since 2002. She has been a first-responder to almost every major humanitarian crisis over the past decade including the 2004 Boxing Day tsunami, the Iraq war, and the Haiti earthquake.
(CNN) -- I've spent the past weeks working on the famine response with Mercy Corps, an international aid organization, in Mogadishu. As a humanitarian aid worker, I've responded to crisis around the world for almost a decade, but I've never seen a situation as devastating as what I am witnessing in Somalia today.
As far as the eye can see, makeshift shelters sprawl out across Mogadishu. Over 500,000 people in the city are displaced, forced from their homes by war, drought and famine. In the past couple of months, more than 100,000 people have come to this bullet-scarred and destroyed city in the hopes of finding food, medical care and assistance.
The new arrivals stream in by the hundreds daily and settle on any available patch of dusty earth they can find. They build makeshift shelters from twigs, cardboard, and scraps of old clothing. Living in the shadows of bombed out buildings that only a couple weeks ago were the front lines of the long-running war, families are packed into camps, without access to clean water or sanitation facilities. Most sites don't have adequate toilets or latrines. Improper human waste disposal is causing food and water contamination.
U.N.: Somalians face 'imminent starvation'
Although it is famine that has forced so many people into Mogadishu for assistance, the growing concern is that those who make it here may be as likely to die of disease as starvation. Cholera and Acute Water Diarrhea (AWD) are taking the lives of hundreds of children. Cholera is an acute intestinal infection caused by contaminated food or water. It causes watery diarrhea that can lead to severe dehydration and kill within hours if left untreated.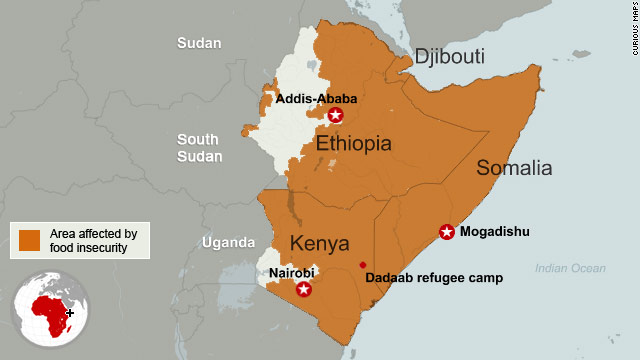 East Africa Crisis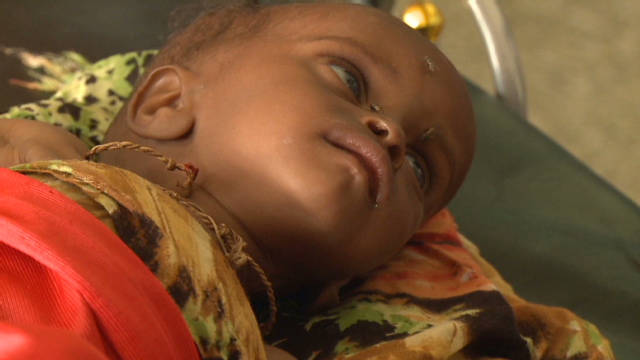 Born into hunger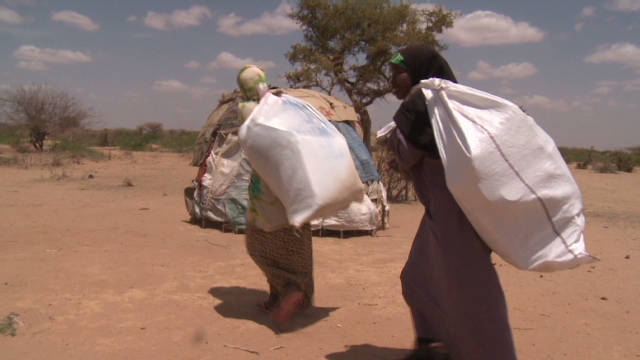 Somalis flee drought, terror
Thousands of cases of AWD/Cholera have already been confirmed at the main government hospital in Mogadishu.
Measles is also taking the lives of many. During one visit to the hospital, I saw three children die in less than an hour. They all had AWD/Cholera and two had the measles.
Dire conditions
The main hospital is in a terrible state. Everywhere I looked I saw mothers holding babies sitting on the floor on scraps of cardboard because there are no beds or chairs available. Examination tables are stacked with little babies on IVs with their mothers anxiously watching them, filled with fear that they may die at any moment.
The hospital is so congested that there is not room or time to properly screen and separate/quarantine the incoming patients, so kids with measles and cholera are side-by-side with kids who are malnourished, but not infected -- yet.
Measles cases seem to be everywhere in the camps, too. Most Somali children have not been immunized because humanitarian assistance was very limited for the past several years due to insecurity. Now the measles virus is spreading rapidly through the extremely overcrowded camps.
I met Benti, a mother of three who lives in a large camp. Benti's five-year-old son, Mohammad Duk, has the measles. When he lifts his shirt I can see his stomach and neck are covered in the telltale rash. Her daughter, Crokina, has a cough -- a typical symptom of disease, although it is not clear if she has the measles or a respiratory infection, or possibly both.
The children have not been to the doctor and are not taking any medicine.
"We don't have money for medical care," explains Benti. "We have no food, how can we afford to pay for medicine when we can't even eat?"
The situation continues to get worse with tens of thousands of Somalis dead and more than 500,000 children on the brink of starvation. There are no proper graveyards, no birth certificates, and no death certificates.
Mercy Corps' objectives
In the short term the goal is simply to save lives. A multi-pronged approach that integrates health, nutrition and water and sanitation is critical to prevent more unnecessary deaths.
In the camps, more latrines must be built, as well as hand-washing stations at the latrines. Clean water, water jerry cans and soap must be provided in adequate supplies to camp residents.
Mercy Corps is trucking water to camps now to address the emergency, but also working to connect the camps to the city water distribution system and provide water storage and distribution stands in the camps as quickly as possible.
In regards to healthcare, there is an urgent need for improved sanitation in the wards and around the hospital grounds. Currently there is no waste disposal system and the human waste from patients is simply thrown out into the yard of the hospital -- into the same area where people go to wash their clothes and cook food for people in the hospital.
But despite the desperate conditions, the Somali people are not giving up. They are demonstrating a strength and resilience that is hard to believe given their circumstances. The need for aid work in Mogadishu is overwhelming, but the determination and grace of the Somali people gives me the energy and inspiration to carry on with my work.
FOLLOW THIS TOPIC