Hannibal's horrors: Others tell stories similar to burned nanny's
STORY HIGHLIGHTS
Shweyga Mullah says Moammar Gadhafi's daughter-in-law poured boiling water on her
She is recuperating from her painful head wounds
One man says domestic staffers, especially foreigners, were abused
Another Nanny calls Aline Gadhafi a "sadist"
Tripoli, Libya (CNN) -- Shweyga Mullah gestures a greeting to her visitors at Tripoli's burn hospital. Her head wrapped in fresh bandages, her frail body under a red fleece blanket, Mullah is slowly regaining her dignity.
Tears stream down her cheeks, not of pain anymore, but relief. She is grateful for all those who have helped her in her ordeal. She prays now for God to heal her and return her to her family in Ethiopia.
Mullah worked as a nanny for two of former Libyan leader Moammar Gadhafi's grandchildren. When she couldn't keep one from crying, Aline, the wife of Gadhafi's son Hannibal, poured boiling water on her head.
CNN journalists discovered her in Hannibal Gadhafi's plush home after anti-Gadhafi forces overran Tripoli and Hannibal Gadhafi and his wife fled to Algeria.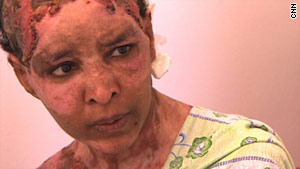 Shweyga Mullah, a nanny for Hannibal and Aline Gadhafi, says Aline burned her with boiling water.
Mullah's scalp and face were a mosaic of injuries that rendered her face into a grotesque patchwork. Even though the burns were inflicted three months ago, she was still in considerable pain.
"I think it's a crime against humanity," said Naji Barakat, the new Libyan health minister.
Apparently, it was not just Mullah who suffered as servants of Hannibal Gadhafi's family. A man too frightened to reveal his name led CNN reporters to another one of Hannibal Gadhafi's properties, a gated, high-walled villa-like house, where the man said more abuse was meted out to staffers.
"Shweyga is not the only one," he said, describing a Sudanese man who was also scalded with water after he burned an undershirt he was ironing.
He said the foreign staff bore the brunt of the abuse.
Another foreign nanny contacted CNN and described Aline Gadhafi as a "sadist" and a "psychologically sick" woman.
A room in the villa perhaps bears out the nanny's words -- a prison cell in a private home.
Back at the burn hospital, Mullah faces months of recuperation and surgery. Her story generated enormous public response. So far, people have donated more than $16,000 dollars for her care.
Now, CNN is working with several agencies to make sure that Mullah gets proper care and that she can get back home to her family after her nightmare under the Gadhafis.
FOLLOW THIS TOPIC


Part of complete coverage on

CNN's Ben Wedeman offers a rare view of fighters, proud to be Libyan, new to warfare yet willing to fight
Moammar Gadhafi no longer has his Tripoli compound or his power apparatus. He is a fallen leader and a fugitive

The Gadhafi family -- a large, at times quarrelsome clan that helped the embattled strongman hold onto power

Seized documents revealed a close relationship between the CIA and counterparts in the Gadhafi regime

Oksana Balinskaya served as one of Gadhafi's five Ukrainian nurses for nearly two years

Archaeological treasures can be found all over the country, and UNESCO is worried

Abdul Hakeem Belhaj, who once fought with al Qaeda, is now commander of anti-Gadhafi forces in Tripoli

Former CIA director Michael Hayden says building a stable new regime could be as difficult as ousting Gadhafi


Most popular stories right now