STORY HIGHLIGHTS
"God is with us, and we are in our homes," he says on Syrian television
He says his hometown, Sirte, is now the nation's capital
"Armed tribes will not surrender," he says
(CNN) -- Ousted Libyan leader Moammar Gadhafi declared late Thursday in an audio recording played on Syrian television that his people will emerge victorious in their battle against the "imperialist" invaders.
"God is with us, and we are in our homes," he told Al-Rai Television, adding that Libyans are prepared to martyr themselves for the cause.
Gadhafi bemoaned the NATO attacks on Libya, which he said had destroyed schools, universities, factories and airports.
"All this has been destroyed now by some traitors," he said. "Who asked the imperialists to come and destroy Libya and occupy Libya?"
Gadhafi, who did not reveal his whereabouts, said the capital of the country has been moved from Tripoli to Sirte, the coastal town midway between Tripoli and Benghazi that is Gadhafi's birthplace and a loyalist stronghold.
He said the invaders are intent on confiscating Libyans' water supply and setting back efforts Gadhafi had made during his 42 years in power to improve the lives of Libyans.
But, he said, "The Libyan people would rather die than be suppressed. This is something we will not allow the traitors to do -- let Libya be occupied and suppressed and humiliated."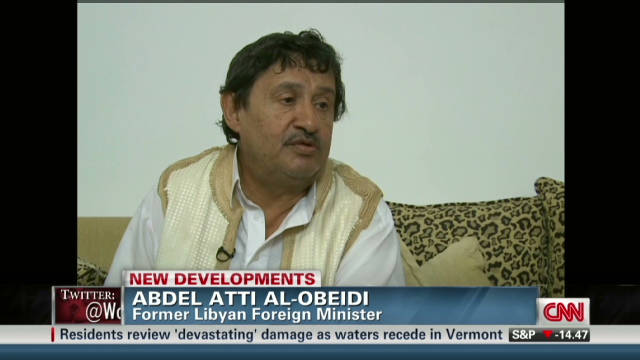 Gadhafi foreign minister surrenders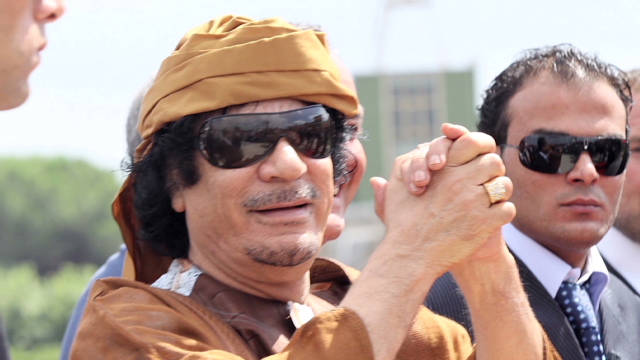 Gadhafi urges loyalists to fight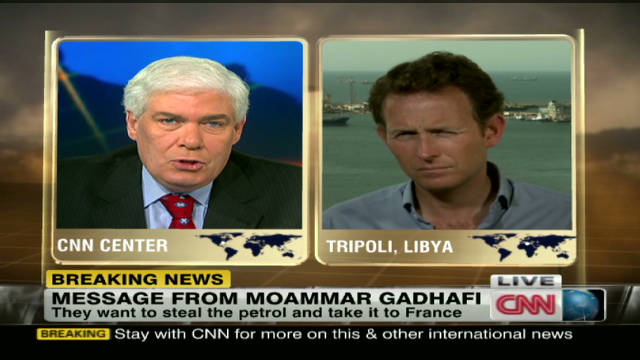 Moammar Gadhafi's new message
Then, addressing the attackers, he said, "We will fight against you wherever you are; we will sacrifice our lives so that the sand and stones of Libya will become fire, and fight against you. You will never have peace of mind inside our land."
He accused the invading forces of having killed 1,000 people on Eid, the holiday that marked the end of the holy month of Ramadan.
But he said his supporters were continuing the fight from Sirte undeterred. "We are the lions of Libya, we will not allow you to take the oil fields and our ports."
Gadhafi warned that his countrymen are committed to taking back their country from the opposition. "We are ready for a long, drawn-out war," he said. "They will not be able to fight a long war. They will retreat, day by day."
The enemy is few in number and has little equipment, he said. "Attack them everywhere," he urged.
Then, addressing foreign powers, he said, "You will never be able to occupy Libya or run it. You think that the Libyans will listen to you and you give orders from overseas, the same as the Ottoman Turks used to run the affairs of other countries from Istanbul."
But the country's tribes are armed and not likely to bend to the will of foreigners, he said. "You cannot rule them," he said. "Even if you attack them by aircraft, armed tribes will not surrender."
FOLLOW THIS TOPIC