STORY HIGHLIGHTS
Doctor describes scenes of chaos in hospitals in Tripoli
Rebels say Gadhafi forces firing artillery near the airport are entrenched in villages
U.N. Security Council meets to discuss the release of funds
33 international journalists are freed from luxury Rixos Hotel
Get the latest developments from Libya via our LIVE BLOG, and Tune in to "AC360º" at 8 and 10 p.m. ET for live reports from CNN reporters on the ground.
Tripoli, Libya (CNN) -- Even as Moammar Gadhafi's forces appeared in disarray, there was no letup Wednesday in casualties in the war with rebels here.
A National Transitional Council official said four rebels from Zintan were killed Wednesday in Tripoli.
The humanitarian group Medecins Sans Frontieres, also called Doctors Without Borders, said support facilities in the capital were overwhelmed with patients.
"Almost all of the hospitals around the city are receiving wounded, but some of the hospitals have not been accessible due to the fighting, which means that other hospitals have an added burden," said Jonathan Whittall, MSF head of mission in Tripoli.
He described scenes of chaos inside institutions short of doctors and nurses, many of whom have been afraid to travel unsafe streets to get to work.
But, he added, "there is a huge number of people who are responding as volunteers and who are going to the hospitals to try and support and assist where they can."

'This is a new beginning for Libya'

Libyan woman no longer afraid to speak

Matthew Chance from Libya

Battle for Tripoli continues
At one clinic, nearby houses had been converted into inpatient departments, with patients lying on the floor or on desks and "essentially caring for themselves."
Ambulance workers are hamstrung by the fuel shortage in the capital. With electricity only sporadic, hospitals have been running on generators, but they too require gas.
Still, he said, "The health facilities are stretched, but by no means are they completely collapsed or not functioning at all."
The bodies of 17 rebels killed Tuesday by Gadhafi forces near the longtime leader's compound were taken Wednesday to a hospital in eastern Tripoli, a doctor there told CNN.
Dr. Mohammed Rashed said the victims had been executed.
Rashed, a Libyan who has worked as a consultant in Britain for 25 years, said he was volunteering with a medical group at a Tripoli hospital when a patient showed up Wednesday seeking treatment for a leg wound.
The patient told Rashed that he was one of 25 people who had been abducted from their homes by Gadhafi forces, taken to a military barracks near Gadhafi's compound and accused of complicity with the rebels.
As the Gadhafi forces began to execute them, rebel forces began storming Bab al-Azizia, he said. The resulting confusion gave some of the captives the chance to escape, he said.
"Several escaped with leg injuries and they made it to the hospital," Rashed told CNN in a telephone interview. "These are the people who are telling the story."
On Wednesday, relatives of the dead brought the bodies to the hospital loaded in a truck, Rashed said. Having examined them, he said, he was certain they had been executed.
The relatives said more bodies remained in the compound, but gunfire kept them from trying to remove them, Rashed said. CNN could not independently confirm Rashed's account.
Meanwhile, Libyan rebels weathered pockets of resistance across Tripoli from forces loyal to Gadhafi as the U.N. Security Council met to discuss the unfreezing of Libyan assets.

Opposition controls airport in Tripoli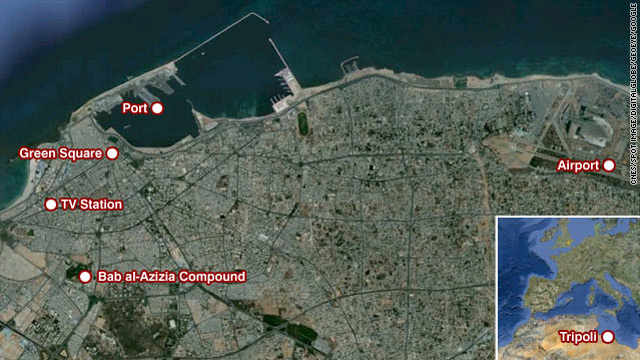 Map: Tripoli hotspots

Scramble for Libya's oil

Libya: Urban warfare?
Rebels worked to topple remnants of the Gadhafi military apparatus as special forces from Britain, France, Jordan and Qatar -- on the ground in Libya -- stepped up operations in Tripoli and other cities.
But a senior opposition official said a large portion of the southern half of the capital remained dangerous.
In some areas, elements of Gadhafi forces were in the streets taking shots at people. The sounds of celebratory gunfire mixed with sounds of fighting, making it difficult to ascertain what was going on.
Several rockets landed near Tripoli International Airport, near where rebel commander Mukhtar Al-Akhbar said the bound bodies of four rebel fighters had been found.
Rebels controlled the hotly contested airport but were struggling to control an area east of it. Late Wednesday night, two planes were set ablaze and exploded after they were hit by Gadhafi forces shelling the airport.
The forces trading artillery fire with Gadhafi troops around the airport were working to avoid civilian casualties because regime elements had entrenched themselves in nearby villages, rebel commanders said. While the rebel fighters were shooting back, they were calibrating their fire in order not to strike villagers, the commanders said.
Rebels said the intensity of the fighting around the airport was linked to the rebels' failure to find Gadhafi.
The National Transitional Council, which is what the rebel leadership is calling itself, announced that a Benghazi businessman offered a $2.5 million bounty on the Libyan leader's head.
Later, council spokesman Mohammed Shater put the reward at 1.7 million dinars ($1.4 million), representing February 17, the day the revolution began.
Fighting between rebels and Gadhafi loyalists broke out Wednesday outside the Rixos Hotel, where 33 international journalists and two other foreign nationals were released after being held for five days by pro-Gadhafi forces, according to the International Committee of the Red Cross.
Around 4:30 p.m., six ICRC staff members arrived at the hotel and took them to a safe location.
CNN Senior International Correspondent Matthew Chance said the journalists had been "living in fear" and that they wept with relief as they got out. He called the ordeal "an absolute nightmare."
Chance said the loyalists released the journalists upon realizing that most of the city had fallen to rebels.
"It's good to be out, it's good to be free," said CNN Producer Jomana Karadsheh.
Four Italian journalists were kidnapped on a road between Zawiya and the capital, about a half-hour away, Italian Foreign Ministry spokesman Maurizio Massari told CNN. Massari said it was unclear who was responsible, but that the ministry assumed it was pro-Gadhafi forces.
Two of the journalists are from Corriere della Sera newspaper and one each from La Stampa and Avvenire.
Avvenire's foreign editor, Paolo Alfieri, said his kidnapped journalist, Claudio Monici, called the newsroom and spoke for about five minutes. During the conversation, Monici identified the others as Elisabetta Rosaspina and Giuseppe Sarcina from Corriere della Sera and Sono Domenico Quirico from La Stampa.
Alfieri, who described Monici's voice as calm, said the journalist reported that the four had been en route from Zawiya toward the capital when they were stopped by a roadblock. There, the four journalists were beaten and one of the drivers was killed, Monici said. Still, he described the four journalists as "well."
Alfieri said Monici said nothing about what the kidnappers were demanding.
Two Arabic-language networks aired an audio message purportedly from Gadhafi in which he called upon all Libyans "to clear the city of Tripoli and eliminate the criminals, traitors and rats."
"They are hiding between the families and inside the civilian houses," the speaker said. "It's your duty to enter these houses and take them out."
CNN cannot confirm the authenticity of the message.
Hours earlier, Gadhafi spokesman Musa Ibrahim struck an equally defiant tone when he said government forces had the power to fight in Tripoli "not just for months -- for years."
"We will turn Libya into a volcano of lava and fire under the feet of the invaders and their treacherous agents," Ibrahim said in a phone call to a satellite news channel, according to Reuters.
A senior NATO official said the war was "not over yet, although it's close. We continue to watch for flare-ups from around the country, where there are still going to be pockets of resistance. We are also watching the chemical weapons and Scud missiles to make sure they are not used in the endgame."
Another NATO official elaborated on the help from foreign forces. British forces, in particular, have assisted rebel units by "helping them get better organized to conduct operations," the official said.
Some of the foreign forces traveled with rebel units from towns across Libya as they advanced on Tripoli. The official, who declined to be identified due to the sensitive nature of the intelligence information, said the special forces had helped rebels "improve their tactics."
The forces also provided targeting information to warplanes conducting airstrikes, conducted reconnaissance missions in Tripoli and assisted rebels in communications, the official said.
NTC Chairman Mustafa Abdul Jalil told Italy's La Repubblica daily newspaper Wednesday that Tripoli was "80% under our control."
"Pockets of resistance remain in the city and there is a large concentration of the armed forces in the Sirte area, the historical backbone of the regime," he said. Sirte, Gadhafi's hometown, is east of Tripoli.
"The Gadhafi era is finished, even though all will end only with his capture and with his conviction for all the crimes he committed."
Jalil said the "prevailing thought" within the Transitional Council is to try Gadhafi and his allies in Libya, not at the International Criminal Court at The Hague, which has issued an arrest warrant for him for crimes against humanity.
He also said that parliamentary and presidential elections will be held in eight months. "We want a democratic government and a fair constitution," he said.
Foreign countries were recognizing the council as Libya's rightful government, though Venezuelan President Hugo Chavez said his country would recognize a regime only if it were led by Gadhafi, his ally.
Russian President Dmitry Medvedev said his country would consider establishing relations with rebels if they "have the power and spirit and opportunity to unite the country on a new democratic basis."
However, "there are two governing powers in the country, and despite the rebels' success in Tripoli, Gadhafi and his loyalists retain influence and military potential," Medvedev said.
Critical to the rebels' ultimate success will be the release of money that has been frozen in international banks.
In Washington, State Department spokeswoman Victoria Nuland said all U.S. citizens who were known to be detained in Libya have been released and their families notified.
"We are diligently working through a variety of contacts, including the Hungarian Embassy in Tripoli, which serves as our protecting power, to provide assistance to those who may require it," she said.
The U.N. Security Council may soon free up assets for use by anti-Gadhafi forces in Libya.
The council met Wednesday afternoon to discuss the release of $1.5 billion in humanitarian aid for Libya. Money held by the Libyan regime in foreign bank accounts was frozen by the council in February and March.
South Africa continued to be the lone holdout. The South Africans said the issue is not settled on the ground in Libya. South Africa was also upset that the African Union was ignored, in their view, in the U.N. resolution that authorized the use of NATO's military force in Libya.
But South Africa, which does not have veto power, cannot block release of the money; Washington was expected to call for a vote Thursday afternoon.
CNN's Jack Maddox, Dan Rivers, Sara Sidner, Arwa Damon, Raja Razek, Jomana Karadsheh, Hada Messia, Kareem Khadder, Maxim Tkachenko, Hamdi Alkhshali, Mick Krever, Richard Roth and Barbara Starr contributed to this report.
FOLLOW THIS TOPIC