STORY HIGHLIGHTS
In Kenya, the price of maize rocketed by 160% over the last year
Drought, lack of agriculture policy, fuel costs and export bans are blamed
The crisis affects everyone but mainly the poorest households
Food price hikes can cause malnutrition and instability, according to one expert
(CNN) -- As the Horn of Africa struggles to deal with its worst drought in more than half a century, rising food prices are adding to growing hunger in Kenya.
Wolfgang Fengler, the World Bank's lead economist for Kenya, describes increasing food prices as a "silent crisis" that has been building up.
"It's a crisis because this region is still a poor region where half the population and more live below $2 a day," says Fengler. "They spend on average half of their income on food. And obviously if prices go up, then they reduce the food intake."
Last week, data released by The Kenya National Bureau of Statistics showed that the country's inflation increased for the ninth consecutive month in July to 15.53% year-on-year, compared to 14.49% in June.

East African crisis 'man made'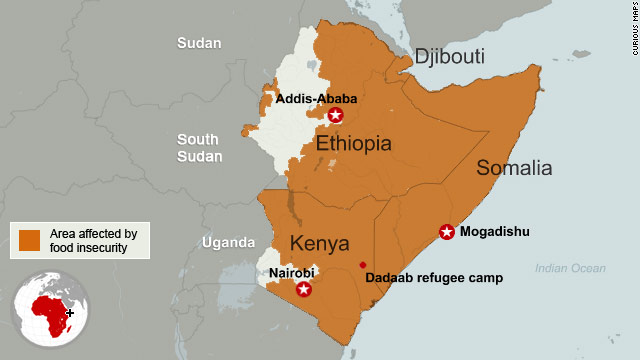 Crisis in East Africa
The surge in the cost of living was attributed to price increases for food staples such as maize flour, maize grain, sugar and rice.
The price of a 90 kilogram bag of maize, which is the main food source for most Kenyans, jumped from about $16 in June 2010 to about $44 in July 2011 -- an increase of 160%. Sugar prices increased by 19.43% between June 2011 and last month.
Analysts say a confluence of factors has contributed to the dramatic increase in the price of some food items.
"It's obviously the drought -- the whole region has experienced a drought that has not happened in the last 60 years -- but in the longer run I think that the lack of agriculture, a lack of what poor people need, is a fundamental cause," says Dr Shenggen Fan, director general of the International Food Policy Research Institute.
"We were not able to help the poor people to grow their own food and to increase their resilience to drought," he adds.
The problem has also been exacerbated by other factors, such as high fuel costs to transport food, the weak Kenyan shilling and maize export bans by neighboring countries.
The Tanzanian government recently announced a decision to ban exports of maize and other crops outside the country in order to increase its domestic food security and keep prices of staple foodstuffs down at home.
Fan says such moves have hit Kenya's ability to make up for its dwindling production.
"In Kenya, the production was probably reduced by more than 50%," he says. "In the meantime imports are not coming -- the bans imposed by Tanzania and Ethiopia -- so from that import side, the government or the private sector have not been able to import maize enough and also the domestic production has declined, so when the production is going down the prices obviously will go up."
While maize prices have jumped worldwide since last year, the "tragedy" for poor Kenyans is that prices in the country have increased much faster than at the global level, according to Fengler.
Basically it's a system of re-distribution from the poor to the rich.
--Wolfgang Fengler, World Bank
"If Kenyans would buy at international prices, they would just buy at something like $30 per bag of maize -- now they pay $45 per bag," he explains.
In theory, high food prices are not necessarily bad news in developing countries that depend on agriculture, giving small farmers an opportunity to increase their income.
In practice, however, only a small minority of farmers have enough land and capital to produce a significant surplus to make the most of higher prices, says Challiss McDonough, senior spokesperson for East, Central and Southern Africa for the U.N. World Food Program.
Fengler agrees that it's only a small share of food producers who are profiting from the high prices in Kenya.
"It's basically 1,000 farmers who are benefiting from a relatively inefficient system where prices are kept at a high level to the detriment of the mass of the population," he says. "Basically it's a system of re-distribution from the poor to the rich."
A recent study by international aid agency Oxfam found that soaring prices have forced most Kenyans to change their eating habits -- 76% of respondents in the country told the agency that they've changed their diets, with 79% of those blaming food prices.
McDonough says such price hikes affect everybody but have a disproportionate impact on poor households, leading to "increased levels of malnutrition, a decrease in income available for schooling or access to health services, and potential instability in those countries that are worst affected."
And with each natural disaster, the poorest have even fewer assets to sell, leaving them less money to buy food.
In this drought, pastoralists have seen their purchasing power plunge as the their emaciated animals decrease in value.
Fan calls on the international community to help Kenya improve its technology and set up large grain reserves. He also urges the East African nation to up its agriculture investment in order to reduce farmers' dependency on weather conditions, boost their productivity and improve their access to good maize seeds.
"I think the country still has ability to feed its own population, but they've got to fix their policy and their investment in agriculture," says Fan.
For Fengler, it's critical that Kenyans get to a situation where they don't use half of their income to buy food.
Instead, he says, they should be in a position where "they have a smaller share so that then, (they are) like in richer countries where people are complaining about food prices, but they're just complaining, not suffering."
FOLLOW THIS TOPIC