STORY HIGHLIGHTS
NEW: A U.N. official says 600,000 children may die
The Red Cross is asking donors for $87 million more for Somalia
But the African Union postpones a donor conference
The United Nations has declared famine in three areas of Somalia
Mogadishu, Somalia (CNN) -- As famine conditions worsen in Somalia, the International Committee of the Red Cross said Thursday it is ratcheting up emergency operations to help an additional 1.1 million people suffering under drought and conflict.
The agency is asking donors for $87 million more to address the crisis at hand.
"The move comes in response to a situation that is becoming ever more desperate," said Jakob Kellenberger, the president of the agency. "Hundreds of thousands of Somalis face life-threatening food and water shortages."
The African Union, however, postponed its donor conference by two weeks, without giving any reasons. The meeting planned for August 9 now will take place August 25.

Food crisis deepens in Somalia

Images of famine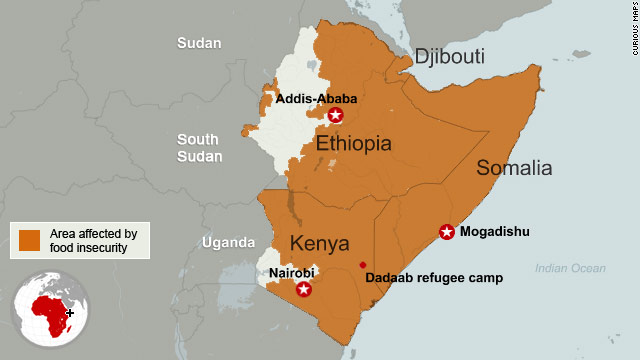 Crisis in East Africa
"Urgent humanitarian assistance is crucial to alleviate the impact of the drought which has deprived people from water, sanitation, health, basic food and nutritional needs," said a statement from the pan-African body.
The Swedish government also announced additional aid of $7.5 million.
The United Nations estimates that 29,000 children have perished in the past month. Valerie Amos, the under-secretary for general and emergency relief, told CNN Thursday that 600,000 may die.
She urged support for the aid organizations that are able to operate in southern Somalia, in areas controlled by rebel Al-Shabaab militants, who have banned international agencies.
Al-Shabaab launched a Ramadan offensive Monday amid the spreading famine with heavy fighting reported in the northeastern part of the Mogadishu, according to African Union officials.
"In the midst of a famine seizing Somalia, the extremists are choosing to focus on killing, not saving life," said Lt. Col. Paddy Ankunda, a spokesman for the African Union's peacekeeping mission. "The extremists are using desperate measures to achieve their ends through their willingness to use brutal violence during the holy month of Ramadan."
The Red Cross in Somalia said, however, it has the ability to carry out large-scale food distribution.
"The budget extension will enable the (Red Cross) to further expand its therapeutic feeding programs and its food distributions to help people get by during the extremely difficult period until the next harvest in December," it said.
The United Nations declared famine in three more regions of Somalia Wednesday -- the war-ravaged capital, Mogadishu, as well as the Ifgooye corridor and the Shabelle regions west of Mogadishu.
The human catastrophe was triggered by the worst drought in more than half a century and compounded by decades of conflict, high inflation and increasing global food and fuel prices.
The United Nations issued a famine declaration for two districts of southern Somalia in June.
In all, about 12 million people in the Horn of Africa region need assistance; Somalia is the worst hit.
FOLLOW THIS TOPIC