STORY HIGHLIGHTS
Ramadan begins in Somalia where Al-Shabaab militants use it to rally supporters
Al-Shabaab's grip on the loyalty of Somalis feels more tenuous this year
Famine, and an Al-Shabaab ban on international aid, has forced many to flee
U.N. estimates 1.5 million left Al-Shabaab strongholds for AU-controlled areas in Mogadishu
Mogadishu, Somalia (CNN) -- The Ramadan offensive has begun here, an obvious date to rally supporters of the al Qaeda-affiliated Al-Shabaab militant group, but this year feels a little different.
I was in the Somali capital two years ago and every night, just before the call to prayer signaled the breaking of the fast, we'd hear a cacophony of mortar rounds and gunfights.
Somali friends told me back then the militants believed dying in battle while still fasting would ensure they "entered heaven without even taking their shoes off."
This year Al-Shabaab's grip on the capital and the loyalty of Somalis feels more tenuous. Since I was last here in 2009 the rains have failed and the drought has spread bringing with it famine and desperation.
Ramadan strike launched in Somalia
Al-Shabaab insists that the famine crippling their families and communities is a "crusader" invention -- an excuse for occupation. For al-Shabaab, the crusader term can apply to anyone opposing them and can include the U.N., international aid groups and the African Union.
Even as crops withered and livestock starved, Al-Shabaab kept its ban on aid groups operating in territory it controls in Southern and Central Somalia, and parts of the capital.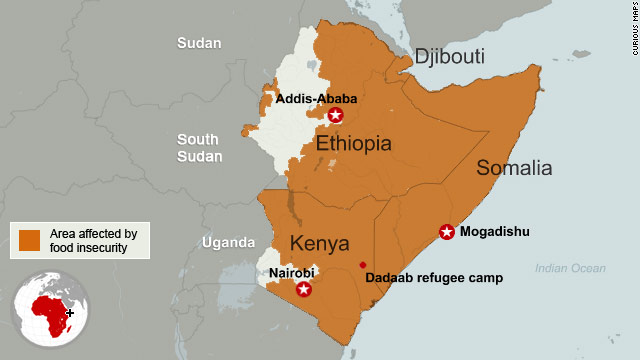 Crisis in East Africa

Somalia refugees await relief

Explain it to me: Ramadan
That's when people began defying them and making their way -- many walking for days -- to the capital, Mogadishu.
The drought is Somalia's worst in 60 years and the U.N. refugee agency estimates 1.5 million Somalis have arrived in the capital.
Meanwhile, African Union intelligence sources say Al-Shabaab is massing hundreds of troops in the parts of Mogadishu it controls for a show of force during Ramadan, which began Monday.
The migrants have made their way to the areas of the capital controlled by the African Union forces supporting the fragile Somali Transitional Federal Government.
Even that is not enough to guarantee their safety.
We met Faiza and her three-year-old daughter, Hanim, in the ward of an AU clinic.
After Hanim recovered from the malnutrition that first brought her to the clinic a month ago, her mother told us, she was readmitted a week later for surgery to remove a stray bullet.
But Al-Shabaab, which has regularly operated from civilian areas, has been left militarily exposed as the civilians flee from them. Without the civilians for cover Al-Shabaab is more at risk from a military offensive.
Perhaps realizing that, they've tried to target the displacement camps in the capital -- an attempt to scare people into returning home.
For now that tactic isn't working but it has raised concern among U.N. agencies at the potential risk posed by Al-Shabaab to jeopardize aid deliveries.
Some people here now see Al-Shabaab as the architects of this famine. One man we met in a camp said, "Nature is always cruel, but Al-Shabaab are the real killers."
The last time I was here, the AU controlled just the sea port, airport and State House. Today it also controls eight of the 17 districts that make up Mogadishu.
They're hoping these successes will convince the world that Somalia is not a lost cause and most importantly finally secure some much needed support before it's too late.
FOLLOW THIS TOPIC