Aid ban still in place in Somalia, Islamist militants say
STORY HIGHLIGHTS
NEW: Al-Shabaab says there's no famine in Somalia
NEW: Spokesman accuses the groups of having a political agenda in declaring a famine
Islamist militants say a 2009 ban on various groups remains in place
Somalia is facing a famine that puts half of its population in dire need, U.N. says
(CNN) -- Islamist militants in Somalia have reversed a pledge to allow foreign aid agencies to operate in famine-struck regions in the nation.
''The lift of ban on aid agencies doesn't include the agencies that we banned earlier in areas we control because those agencies don't do relief work, they are spies and work on political agendas'," Al-Shabaab spokesman Ali Mohamud Raage said Thursday on the militants' radio station, Al Furqaan.
His announcement reverses his pledge this month that militants would allow aid groups to operate in areas under their control.
Al-Shabaab originally banned foreign aid organizations from providing aid in southern Somalia in 2009, describing them as Western spies and Christian crusaders.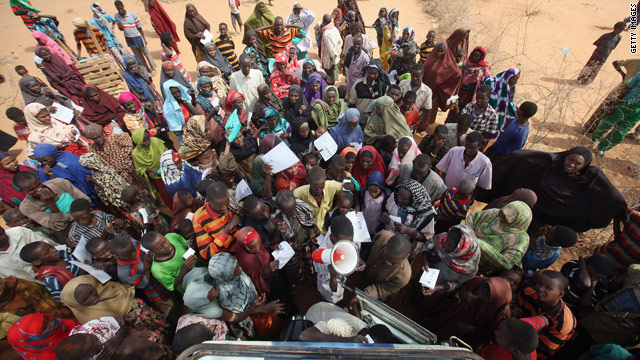 Gallery: Somali refugees flock to Kenya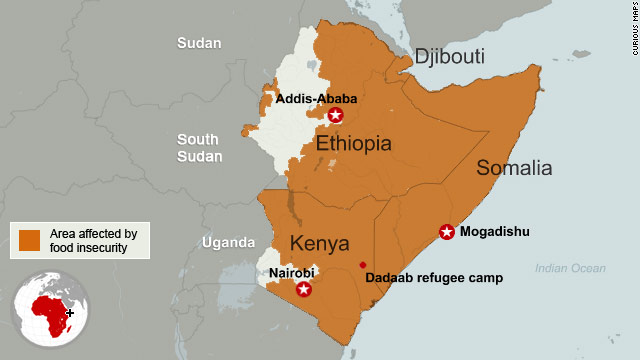 East Africa Crisis

11 million starving in Somalia
The ban included the United Nations Development Programme, World Food Programme and CARE International. The World Food Programme has said that a new dialogue -- but not negotiations -- is under way with the group.
Raage accused the groups of having a political agenda in declaring a famine in Somalia.
''The U.N. said that there is famine in Somalia. That is not true. It is a lie and they are politicizing the issue," he said. "We only have drought in Somalia, not famine."
Aid groups issued an urgent appeal this week for international help, saying Somalia faces a famine that has left half of the population in dire need.
Somalia is battling its worst drought in 60 years, sending tens of thousands walking for days into both Kenya and Ethiopia in search of food and water.
"Nearly 3.7 million people are now in crisis," U.N Secretary-General Ban Ki-moon said.
Aid agencies estimate that 10 million people in Kenya, Ethiopia, Djibouti, Uganda and Somalia are at risk of famine.
Conflict in Somalia is adding to the problem as government forces battle militants in the capital of Mogadishu. The Horn of Africa nation has not had an effective government for two decades.
Journalist Mohamed Amiin Adow contributed to this report.
FOLLOW THIS TOPIC


Part of complete coverage on

Images of Ethiopia's leafy vegetation may not match everyone's idea of a drought, but millions in the country are going hungry.

A campaign to raise funds has galvanized the nation, as families battle a devastating drought.

The U.N. World Food Program's executive director says ending chronic hunger is within our power.

As the Horn of Africa struggles to deal with drought, rising food prices are adding to growing hunger in Kenya.

Doctors are struggling to save lives and cope with death at the Dadaab refugee camp.

Primary schools providing free lunchtime meals operate as "life-saving centers."

Long-term drought, conflict, poor harvests and rising food and fuel prices have combined to create a growing crisis.


Most popular stories right now