STORY HIGHLIGHTS
"The situation is very severe. The conditions are very harsh," the president says
President issues an appeal for "quick help"
About half the Somali population is affected
Aid group warns the crisis is expanding to other nations, including South Sudan
Mogadishu, Somalia (CNN) -- The Somali president issued an urgent appeal for international aid as his drought-stricken country faces a famine that has left half of the population in dire need.
"The situation is very severe. The conditions are very harsh," President Sheikh Sharif Sheik Ahmed told CNN Wednesday during an exclusive interview at his residence in Mogadishu.
"We request for the international community to assist the Somalis, those within Somalia and at the borders. We urgently request quick help."
The United Nations declared a famine in the southern part of the nation and warned that the suffering could rapidly spread without a massive and immediate international response.
"Nearly 3.7 million people are now in crisis," said U.N Secretary-General Ban Ki-moon. "We need donor support to address current needs and prevent a further deterioration of the crisis."
The crisis in Somalia -- a failing state mired in internal conflict and suffering the worst drought in 60 years -- has been escalating for months as aid agencies have pleaded for the international community to intervene.
"Several rich governments are guilty of willful neglect as the aid effort to avert catastrophe in East Africa limps along due to an $800 million shortfall," Oxfam said in a statement Wednesday.
Thousands of Somalis have fled the country in search of food and water, trekking for days under scorching sun toward refugee camps in neighboring Kenya and Ethiopia.

11 million starving in Somalia

Famine strikes Somalia

Somalian govt: Famine worse than 1993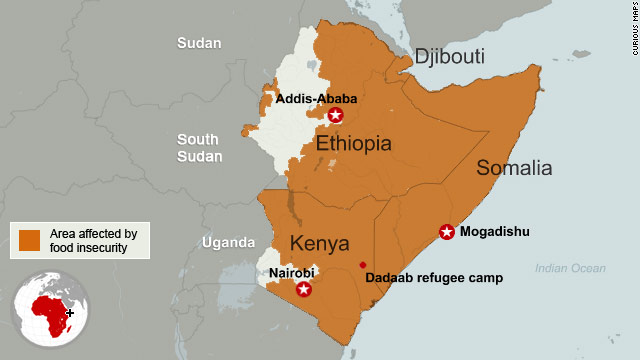 Food crisis in East Africa
Others have fled the south to the violence-ridden capital of Mogadishu, where government forces have been battling Al-Shabaab militants for years. The Islamist insurgents with affiliations with al-Qaeda control large portions of Mogadishu and parts of southern and central Somalia.
Internal strife in the nation, which has not had an effective government for two decades, has exacerbated drought-caused food shortages and livestock deaths.
"Those who made it here (Mogadishu) are the luckiest because many of them died on the road on the way here to get help," said Abdul Hakim Mahmoud, chairman of the nation's drought committee.
Nearly half the people in Somalia are in crisis and roughly $300 million in aid is needed in the next two months, said Mark Bowden, the U.N. humanitarian coordinator for Somalia.
Aid workers call it the worst food crisis since a famine in Ethiopia in the mid-1980s that killed about 1 million people.
"If we don't act now, famine will spread to all eight regions of southern Somalia within two months, due to poor harvests and infectious disease outbreaks," Bowden said. "It is likely that tens of thousands of people have already died -- the majority of these being children."
The south is home to about 80% of the nation's malnourished children.
Aid agencies estimate that 10 million people in Kenya, Ethiopia, Djibouti, Uganda and Somalia are at risk of famine.
World Vision said the crisis is expanding, with parts of Burundi and the new Republic of South Sudan battling a combination of drought and increasing fuel and food prices.
CNN's Moni Basu contributed to this report from Atlanta, and journalist Jane Ferguson from Mogadishu, Somalia.
FOLLOW THIS TOPIC