Gadhafi threatens to take war to Europe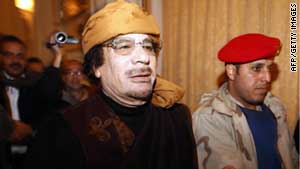 Libyan leader Moammar Gadhafi says NATO should "withdraw and run away."
STORY HIGHLIGHTS
NEW: U.S. is taking the threats seriously, State Department spokesman says
Gadhafi says the battle may one day be taken to Europe
His recorded message was aired at a Tripoli rally
State Department spokesman says Gadhafi is "given to overblown rhetoric"
Tripoli, Libya (CNN) -- Moammar Gadhafi, rallying his supporters in war-torn Libya, threatened Friday to take the fighting to Europe, according to an audio message aired by state TV.
"You are mistaken, you are involved in a battle that you don't know what you are going to face, so withdraw, and run away," Gadhafi told a pro-government gathering in Tripoli. "Our people is able in one day to move the battle to the Mediterranean, and able to move the battle to Europe."
Gadhafi referred to NATO, which began bombing military targets in Libya after the U.N. Security Council approved a resolution in March authorizing force by whatever means necessary, with the exception of a ground invasion, to protect civilians.
Libya rebels claim talks with France over weapons supply
He vowed vengeance for the bombings, saying the Libyan military could be "like locusts, like bees" in Europe. Homes and offices could be potential targets, he said.

Scrambling for cash in Misrata
In Washington, State Department spokesman Mark Toner said the United States was taking seriously the Libyan leader's remarks. "Certainly this is an individual who's obviously capable of carrying out these kinds of threats," he told reporters. "It's what makes him so dangerous. But he's also someone who's given to overblown rhetoric."
He said the United States would continue to support NATO's mission of increasing pressure on Gadhafi to step aside.
Gadhafi's daughter: 'My father is a symbol, a guide'
The French government, meanwhile, is in talks with Libyan rebels about supplying them with weapons and ammunition, a Libyan opposition military spokesman in Misrata said late Thursday.
The French government has not confirmed the claim, which follows an acknowledgment earlier this week that its military has previously dropped light weaponry to rebels elsewhere.
CNN's David McKenzie contributed to this story
FOLLOW THIS TOPIC


Part of complete coverage on

Pro-Mubarak supporters believe Egypt's former president is innocent of charges of corruption and killing protesters.

Fighting in Libya started with anti-government demonstrations in February and escalated into a nationwide civil war.

After months of seeming stalemate, Libyan rebels declared they were moving in on Tripoli. But who are they?

Six months and more than 17,000 air sorties after it began, NATO's Operation Unified Protector in the skies over Libya grinds on.

Click on countries in CNN's interactive map to see the roots of their unrest and where things stand today.

Are you in the Middle East or North Africa? Send iReport your images. Don't do anything that could put you at risk.

Behind the official smiles for the cameras some people in Libya's capital are waiting for the rebels, reports CNN's Ivan Watson.

Tunisia's Mohamed Bouazizi not only ignited a series of revolts but heralded the first appearance of Arab youth on the stage of modern history.


Most popular stories right now