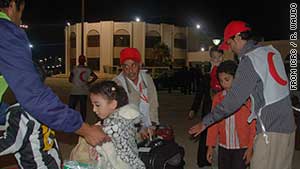 ICRC staff and Libyan Red Crescent volunteers help passengers board the ship at the port of Tripoli, Libya.
STORY HIGHLIGHTS
NEW: Amnesty official calls attacks on civilians "relentless and indiscriminate"
The opposition says Moammar Gadhafi must depart before talks
The government says Gadhafi's departure cannot be a condition
The Red Cross is helping people reunite with their families
Benghazi, Libya (CNN) -- The Libyan opposition said Friday that leader Moammar Gadhafi must leave the country before any peaceful solution can take hold in the north African nation.
"No, this is not a solution," Jalal el-Gallal, a spokesman for the opposition Transitional National Council, said about the prospect of Gadhafi remaining in Libya.
He said no talks -- direct or indirect -- were taking place with Gadhafi's regime. The Libyan prime minister said last week that the two sides were negotiating through "friendly nations."
However, Ahmad Bin Hali, the deputy secretary general of the Arab League, said a political plan was in the works involving the Arab League, the United Nations, the African Union, the Organization of the Islamic Conference and the governments of Egypt and Algeria, according to the regional Aawsat newspaper.
Libyan government spokesman Musa Ibrahim said he welcomed the prospect of such a peace initiative but not one that required Gadhafi's departure. The Libyan government has repeatedly denied any preconditions for negotiations.
Amid the political stalemate, the war raged on and NATO jets continued pounding Libyan military targets, though American lawmakers, in a rebuke to President Barack Obama, rejected a resolution expressing support for U.S. military engagement.

Protesting for, against Gadhafi in Libya
But in another vote Friday, the House also rejected a bill that would have sharply restricted funding for U.S. involvement in the NATO-led Libya campaign.
Also Friday, the chief prosecutor at the International Criminal Court said a decision would be rendered Monday on whether an arrest warrant will be issued for Gadhafi, his son Said al-Islam Gadhafi and his brother-in-law Abdullah al-Senussi.
The three could be wanted for alleged crimes against humanity by the court in The Hague, Netherlands.
At the United Nations, Secretary General Ban Ki-moon said he was trying to expand dialogue with Gadhafi.
"At the same time, what is very important at this time is that they have to stop the fighting and killing people without any preconditions in a verifiable way so that we can expand our humanitarian assistance to many people," Ban said Friday. "Then we can carry on our political dialogues."
Ban said several nations have recognized the interim council, so "the dialogue should begin."
After four months of war, Libya is a divided nation; the east, where the rebels are in control, cut off from the west, where Gadhafi retains power.
Many Libyans have been separated from their loved ones by distance and treacherous front lines, and Friday, a few of them were able to begin journeys to be reunited.
The only safe route between east and west was by sea, and the International Committee of the Red Cross chartered ships to ferry people cut off from their families since war erupted four months ago.
Women carried luggage and diaper bags and held the hands of their children as they boarded the Ionis, a ship that carried 300 people from a port in Tripoli, the capital, to Benghazi, the de facto capital of the Libyan opposition. The Ionis was scheduled to return to Tripoli carrying people from Benghazi.
Meanwhile, 19 Libyan army officers were among 49 refugees who fled to Tunisia, the Tunisian Afrique Presse news agency reported Friday. They arrived Thursday at the port in El Ktef, along the Libyan border, the latest in a stream of people who have made arduous journeys to flee the bloodshed.
Another 38 Libyans, including senior officials, arrived at the same port Wednesday, TAP said. They told TAP that 15,000 people had been killed in the Libyan conflict and that another 30,000 had been taken prisoner.
Gadhafi forces' attacks on civilians have been "relentless and indiscriminate," said Amnesty International's senior adviser on crisis response, Donatella Rovera, in a telephone interview from London. "The government forces have been using indiscriminate weapons and firing, especially before the NATO campaign. They used artillery shells, tank rounds and Grad rockets in residential areas of Misrata, Benghazi and Ajdabiya.
She said rockets rained down on residential neighborhoods and, in Misrata, on the port, in an apparent effort to halt the arrival of humanitarian aid. "We have been calling on the Libyan authorities and their armed forces to immediately stop their attacks on civilians," she said. "They should know very well up and down the chain of command that they will at some point have to answer to an authority."
Asked about Libyan government reports that NATO attacks have hit civilians in the west, she noted that the government has not allowed Amnesty or other nongovernmental organizations to investigate such allegations.
The ICRC said it was hoping to carry as many as 700 of the 950 people who have sought help departing Tripoli, which is still under the control of Gadhafi and under fire almost daily from NATO airstrikes.
Organizing such transport was not easy. The ICRC negotiated with the Libyan government and the opposition Transitional National Council for two months.
"Most of the people we are transferring are Libyans who were working away from their hometowns or visiting relatives or friends when the conflict broke out," said Paul Castella, head of the ICRC delegation in Tripoli. "They are very eager to rejoin their families."
Communications between east and west have been tough. Phone calls are impossible, postal services disrupted and Internet connections erratic, Castella said. "It has become extremely difficult for family members to keep in touch," he said.
The ICRC has been helping Libyans reconnect with their families. It said it has organized more than 13,600 satellite phone calls and delivered more than 640 "safe and well" messages, both within Libya and to other countries.
CNN's Ingrid Formanek, Raja Razek, David McKenzie and Richard Roth contributed to this report.
FOLLOW THIS TOPIC