Ousted Tunisian strongman convicted of corruption charges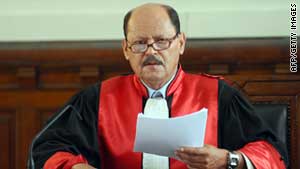 Judge Touhami Hafi speaks Monday at the start of the trial of Tunisia's deposed President Zine el Abidine Ben Ali.
STORY HIGHLIGHTS
NEW: Exiled Tunisian leader and his wife are sentenced to 35 years in prison
NEW: The court also imposed a fine of $65 million
The couple are living in Saudi Arabia and were tried in absentia
The ousted leader says he is being unfairly discredited
Tunis, Tunisia (CNN) -- A Tunisian court sentenced ousted President Zine el Abidine Ben Ali and his wife to 35 years in prison in absentia on Monday after a one-day trial on corruption charges.
Ben Ali and his wife, Leila Trabelsi, have been living in exile in Saudi Arabia since the January revolt that ended his 23-year rule and touched off a wave of uprisings across North Africa and the Middle East. In addition to the prison term, the court imposed a fine of 91 million dinars ($65 million).
The trial began Monday morning in a packed courtroom in Tunis, and a verdict and sentence were handed down Monday night. Ben Ali and Trabelsi were represented by a team of court-appointed Tunisian lawyers.
Defense attorneys Massoudi Abdsattar and Hosni Beiji said Ben Ali had not been informed in time to attend the hearing and had asked that the trial be postponed. The presiding judge, Touhami Hafi, rejected a request for a delay on the theft counts, but agreed to put off drug charges against the couple until June 30.
Outside the courthouse, more than 100 people protested Ben Ali's failure to show up and demanded that the government bring the former president and his family back to Tunisia for trial.
Ben Ali and his wife faced a total of 93 counts stemming from the discovery of cash, weapons, jewelry and drugs in the presidential palace after the revolt. Of those, 35 counts against Ben Ali and his inner circle -- including murder and torture -- have been referred to a Tunisian military court, the state news agency TAP reported.
Ben Ali had ruled the North African country since 1987. Protests began to erupt in December after the self-immolation of a fruit vendor whose cart had been seized by police.
His fiery suicide touched off a firestorm among Tunisians fed up with corruption, high unemployment and escalating food prices. Ben Ali fled the country in mid-January, after a revolt that left at least 300 people dead and 700 wounded, a top U.N. human rights expert said last month.
The former strongman's political party has since been dissolved by a court order, and parliamentary elections have been scheduled for July.
Earlier this month, Ben Ali said he has been unfairly portrayed and discredited by political opponents seeking to make a break with their country's past. In a written statement released by one of his attorneys, Jean-Yves Le Borgne, Ben Ali said it was time to break his silence because he was "tired of being made a scapegoat" and is a victim of "injustice."
Ben Ali said that searches of his official and personal offices were "merely stage dressing" meant to discredit him. He denied allegations that he had improper bank accounts or property holdings outside Tunisia, calling the charges "nothing but a masquerade with the only purpose of illustrating a symbolic break with the past."
Contrary to the assertions of his opponents, Ben Ali argued that he worked for what he thought "was the good of the Tunisian people, improving living standards and progressing on the path to modernity."
Journalist Houda Zaghdoudi contributed to this report.
FOLLOW THIS TOPIC


Part of complete coverage on

Pro-Mubarak supporters believe Egypt's former president is innocent of charges of corruption and killing protesters.

Fighting in Libya started with anti-government demonstrations in February and escalated into a nationwide civil war.

After months of seeming stalemate, Libyan rebels declared they were moving in on Tripoli. But who are they?

Six months and more than 17,000 air sorties after it began, NATO's Operation Unified Protector in the skies over Libya grinds on.

Click on countries in CNN's interactive map to see the roots of their unrest and where things stand today.

Are you in the Middle East or North Africa? Send iReport your images. Don't do anything that could put you at risk.

Behind the official smiles for the cameras some people in Libya's capital are waiting for the rebels, reports CNN's Ivan Watson.

Tunisia's Mohamed Bouazizi not only ignited a series of revolts but heralded the first appearance of Arab youth on the stage of modern history.


Most popular stories right now