Somali official killed in suicide attack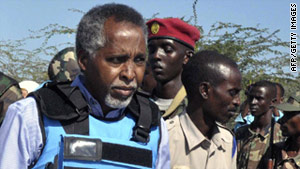 Abdishakur Sheikh Hassan was killed in his home by a suicide bomber.
STORY HIGHLIGHTS
Somali Interior Minister Abdishakur Sheikh Hassan has been killed by a suicide bomber
Hassan was killed in his own home by the bomber, who was a woman
Hassan was treated for wounds to the head and one leg before he died
(CNN) -- Somalia's interior minister was killed Friday in a suicide bomb attack carried out in his own home by a female bomber, Somali government officials said.
The death of Abdishakur Sheikh Hassan was announced on state run radio by Somalia's deputy information minister.
Hassan was briefly treated for wounds to the head and one leg at Mogadishu's Benedir Hospital before dying, according to a government security official who declined to be named because he is not authorized to speak to the media.
The official confirmed that the suicide bomber had been staying at Hassan's house.
The jihadist group al-Shabaab has been waging a war against Somalia's government in an effort to implement a stricter form of Islamic law, or sharia law. Somalia has not had a stable government since 1991, and fighting between the rebels and government troops has added to the humanitarian crisis in the Horn of Africa nation.
It was not immediately clear if the suicide bomber had ties to al-Shabaab.
Journalist Mohamed Amiin contributed to this report