Former Rwandan army chief gets 30 years for genocide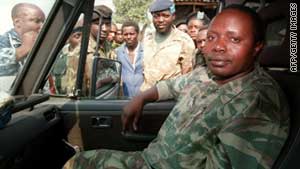 Rwandan former army chief General Augustin Bizimungu is pictured near Goma on July 27, 1994.
STORY HIGHLIGHTS
A war crimes tribunal found Augustin Bizimungu guilty on 6 counts
He had fled to Angola and was arrested there in 2002
About 800,000 people were killed in Rwanda
(CNN) -- A war crimes tribunal for Rwanda sentenced the African nation's former army chief to 30 years in prison Tuesday for his part in the 1994 genocide that killed 800,000 people.
The International Criminal Tribunal for Rwanda (ICTR) found Augustin Bizimungu guilty on six counts of genocide, crimes against humanity for murder, extermination and rape and violations of the Geneva Conventions.
During the genocide, soldiers and police under Bizimungu's command directed the extermination of tens of thousands of Tutsi civilians who had taken refuge in churches, hospitals and schools, according to Human Rights Watch. Soldiers and police also ordered civilian officials and ordinary citizens to join in hunting down and killing the Tutsi and punished them if they failed to do so, the human rights monitoring group said.
Bizimungu fled to Angola, where he was arrested in 2002 and transferred to the tribunal. In 2004, he was charged with directly ordering brutal acts against Tutsis and failing to halt the acts of his subordinates. He denied the charges.
The tribunal also convicted two other senior officers -- François-Xavier Nzuwonemeye and Innocent Sagahutu -- who each got 20 years in prison.
The Rwandan genocide was triggered by the April 6, 1994, shooting down of a plane carrying the nation's Hutu president. Ethnic violence erupted and Tutsis were killed systematically by Hutus. The United Nations estimates that some 200,000 people participated in the perpetration of the Rwandan genocide.
In all, 800,000 Tutsi men, women, and children -- as well as moderate Hutus -- perished.
FOLLOW THIS TOPIC