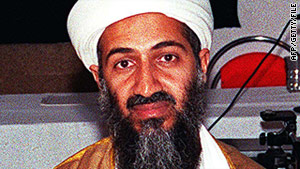 A Somali militant group affiliated with al Qaeda said this week it will avenge Osama bin Laden's death.
STORY HIGHLIGHTS
Al-Shabaab leaders held a memorial service for bin Laden Wednesday
They vowed to continue his mission of jihad
Kenyan authorities have stepped up security at the home of Obama's grandmother
(CNN) -- At a memorial held to honor Osama bin Laden, a Somali militant group affiliated with al Qaeda said this week it will avenge his death.
The meeting -- held Wednesday in Afgoye, an agricultural town about 30 kilometers (18 miles) northwest of the Somali capital, Mogadishu -- included the top leaders of Al-Shabaab, according to those who were present. Attendees included U.S.-born militant Abu Mansoor al-Amriki, dubbed "The American" by al Qaeda.
The group vowed that the path to jihad set by bin Laden will not stop because of his death. Bin Laden was killed May 2 by U.S. Special Operations Forces in Pakistan.
Sheikh Mukhtar Robow Ali, Al-Shabaab's No. 2 leader who is also known as Abu Mansur, told the gathering that bin Laden played a key role in the fight Somali militants wage against both the United Nations-backed Somali government and the African Union supporting it.
"Osama was keeping up with the situation in Somalia on a daily basis, and he held Al-Shabaab in high esteem, so be assured, we will revenge his death, God willing," Abu Mansur said, according to those present.
Al-Amriki, who is in the top echelon of Al-Shabaab, also spoke, saying bin Laden's death will not stop attacks on U.S. interests.
"United States and (President) Obama have already failed," he said, according to those at the gathering. "The killing and death of bin Laden will have no effect in the holy operations against the U.S. and the West. We are committed to continue fighting with the U.S., and we will revenge Osama bin Laden's death."
Also at the memorial was radical Somali leader Hassan Dahir Aweys, according to those present, as well as other high-ranking Al-Shabaab commanders.
The African Union has a peacekeeping force in Somalia made up of troops from Burundi and Uganda. It operates under a U.N. mandate to support Somalia's transitional federal government.
The peacekeeping force is charged with protecting key government and strategic installations in Mogadishu, including the port, airport and presidential palace. It is the de facto military force of the weak, transitional Somali government.
In the week following bin Laden's death, security was stepped up in a number of locations in the region, including at hotels and embassies in Kenya, Somalia's neighbor. Authorities as a precaution beefed up security at the home of Sarah Obama, the elderly paternal Kenyan grandmother of U.S. President Barack Obama, according to Kenya police spokesman Charles Owino. Authorities believe Obama's family could be a target, he said. There was no information on a specific threat made against the family.
"Security is a good thing, but the feeling that you're being targeted for something you have no hand in -- it's uncomfortable to be caught in that situation," said one of Sarah Obama's family members, who asked not to be named.
"This is the first time that a U.S. president has relatives in a third-world country, and though there are good things that come to us through having that status, there are also bad things that come with it," the relative said. "We cannot walk around freely for fear of harm."
CNN's David McKenzie contributed to this report.
FOLLOW THIS TOPIC