Turkish PM to Gadhafi: Leave power now
STORY HIGHLIGHTS
Turkey has closed its Tripoli embassy, citing risk
Ankara mediated the release of the detained New York Times reporters
Rebels have slammed Turkey's ties to the Libyan leader
Istanbul (CNN) -- Turkish Prime Minister Recep Tayyip Erdogan Tuesday called for embattled Libyan President Moammar Gadhafi to step down.
"A new period started in the history of Libya. Words ran out on the Libya matter," Erdogan told reporters in Istanbul.
"At this point what needs to be done is for Moammar Gadhafi, who is holding the government in Tripoli in Libya to leave power immediately and to fulfill his historical and humanitarian responsibility."
Libya has been embroiled in war between pro-Gadhafi and opposition forces, with NATO using air power to enforce a U.N. Security Council resolution to protect civilians threatened by Gadhafi troops.

Celebrations in Benghazi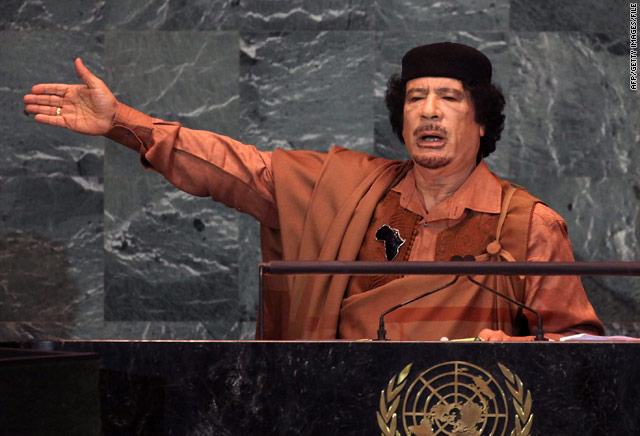 Gallery: The Gadhafi family
Erdogan's words come a day after Turkey shuttered its embassy in Tripoli and evacuated its ambassador and diplomats to Tunisia, citing an increase in risk.
Turkey traditionally has had close trade ties with Libya, and that relationship has helped it serve as a mediator.
For example, Turkish diplomats helped negotiate the release of the four captured New York Times journalists and later escorted them to the Tunisian border.
Gadhafi even once presented Erdogan with a human rights award. But Turkey has also come under fire from the opposition forces in the Libyan city of Benghazi as a result of this relationship.
Demonstrators staged an angry protest at the Turkish consulate in Benghazi several weeks ago, throwing rocks and reportedly burning a Turkish flag. The rebel council there also refused to allow a Turkish ship dock in Benghazi in protest.
FOLLOW THIS TOPIC


Part of complete coverage on

Pro-Mubarak supporters believe Egypt's former president is innocent of charges of corruption and killing protesters.

Fighting in Libya started with anti-government demonstrations in February and escalated into a nationwide civil war.

After months of seeming stalemate, Libyan rebels declared they were moving in on Tripoli. But who are they?

Six months and more than 17,000 air sorties after it began, NATO's Operation Unified Protector in the skies over Libya grinds on.

Click on countries in CNN's interactive map to see the roots of their unrest and where things stand today.

Are you in the Middle East or North Africa? Send iReport your images. Don't do anything that could put you at risk.

Behind the official smiles for the cameras some people in Libya's capital are waiting for the rebels, reports CNN's Ivan Watson.

Tunisia's Mohamed Bouazizi not only ignited a series of revolts but heralded the first appearance of Arab youth on the stage of modern history.


Most popular stories right now