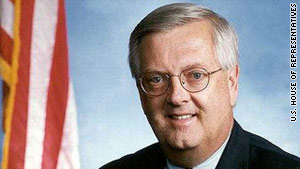 Former U.S. Rep. Curt Weldon is leading what he calls "a small private delegation" with a cease-fire plan for Gadhafi.
STORY HIGHLIGHTS
NEW: Former Rep. Curt Weldon's expected meeting with Moammar Gadhafi has been delayed
"I'm here to tell him face to face it's time for him to leave," Weldon told CNN affiliate WPIX
Weldon led a U.S. delegation to Libya in 2004 and has returned several times
He runs a consulting practice that includes a focus on defense
Read more about the former lawmaker's trip from CNN affiliate WPIX-TV.
(CNN) -- The former U.S. lawmaker invited to Libya by Col. Moammar Gadhafi still had not met with the embattled Libyan leader as Wednesday turned into Thursday there, and it was unclear when the expected meeting would take place.
Curt Weldon, a Republican former Congressman from Pennsylvania, is leading what he calls "a small private delegation" with a cease-fire proposal for the Libyan leader.
"I'm here to tell him face to face it's time for him to leave. It's time for him to step down, allow the people to take over the government of this country," Weldon told CNN affiliate WPIX-TV in New York.
In a New York Times column, he wrote, "There is no question that America should play a critical role in helping the Libyans build a new government. Sadly, in the years since my first trip, Washington has squandered many opportunities to achieve that goal without bloodshed. And unless we begin to engage with the country's leaders -- even those close to Colonel Gadhafi -- we may again lose our chance to help build a new Libya."
Weldon notified the Obama administration about his trip in advance, State Department spokesman Mark Toner said Wednesday afternoon.
But Toner clarified, "He is in no way acting on behalf of the U.S. government."
Since Weldon's first trip to Libya in 2004, he has developed a unique relationship with Libya and Gadhafi.
The head of the U.S. delegation that traveled to Libya in 2004 to express U.S. support for Gadhafi's decision to give up his nuclear weapons program, Weldon has returned to Libya several times since, including after he was voted out of Congress in 2006. He now owns and operates a consulting practice, Jenkins Hill International, that focuses on various issues including defense.
Weldon made a second trip to Libya with another delegation in 2004, two months after the first, according to the Congressional Research Service.
He traveled to the country again in 2005, according to a document from Jenkins Hill published by wired.com. The document says he chaired an international conference in Tripoli with Safi Gadhafi, one of the Libyan leader's sons.
"Weldon has maintained ongoing relations with Gadhafi, his sons" and other Libyan leaders, the document said.
In 2008, he returned "as a private citizen and friend of Libya," and was hosted by the government and the Gadhafi foundation in the private sector, the document said. "The purpose of the trip was to foster economic cooperation and lay out a Strategic Plan for US/Libyan relations. Both objectives were accomplished with overwhelming success.
"Agreement reached for Weldon to quickly return to Libya for meetings with (Gadhafi's) son Morti regarding defense and security cooperation," the document added.
In his New York Times column, Weldon mentions another trip to Libya having taken place in the summer of 2010. He mentions a university engineer telling him that a $500 million contract from the Libyan government to an American engineering company had not benefited his students.
"There's nothing wrong with American companies profiting from business with Libya," Weldon writes. "But did they also consider their larger responsibility to American interests? And where were the White House and Congress in all this? Fortunately, despite the bombs still dropping on Libya, it's not too late to act."
He added that his delegation hopes to "persuade" Gadhafi to leave. "I've met him enough times to know that it will be very hard to simply bomb him into submission."
Rep. Elton Gallegly, R-California, travelled with Weldon on the initial Libya trip in 2004. He told Don Lemon of CNN's "Newsroom" that he has faith in his former colleague's ability to get through to Gadhafi.
"Curt Weldon is a very capable guy. He understands the complexities of Libya and he understands who the players are. And I think they understand him," Gallegly said.
"Moammar Gadhafi realizes that his hours are numbered and that, quite frankly, although he's a difficult person to understand, I think he is ready to step down," he said.
Weldon's consulting company did not immediately answer calls from CNN.
During Weldon's 20 years in Congress, he held key positions on committees focusing on security and energy. He was vice chairman of the House Armed Services Committee as well as vice chairman of the House Homeland Security Committee, according to his biography at speakersaccess.com, a speakers bureau. He also served on the Energy Subcommittee of the House Science Committee.
"Weldon has led over 50 bipartisan delegations to over 100 nations," the bio said.
The former fire chief is known as an outspoken voice on matters involving U.S. security.
In 2005, his book "Countdown to Terror" cemented his reputation as a critic of the U.S. intelligence community. The book's full title carried these words: "The Top-Secret Information that Could Prevent the Next Terrorist Attack on America -- and How the CIA Has Ignored It."
One of his accusations led attorneys for al Qaeda conspirator Zacarias Moussaoui, co-conspirator of the 9/11 attacks, to subpoena Weldon in 2006. Then vice chairman of the House Armed Services Committee, Weldon contended that a secret intelligence operation conducted by the Department of Defense, called Able Danger, mined computer data to identify four of the 19 9/11 hijackers a year and a half before the September 11 attacks.
The Pentagon said at the time that it could not verify the claim. The Senate Select Committee on Intelligence later said its review found no evidence to support that and other claims surrounding the Able Dagner program.
Weldon, calling Moussaoui a "thug," said he was informed he did not have to testify in the case, and that he would decline. Moussaoui, who pleaded guilty to all counts against him, was sentenced to life in prison.
Toward the end of his time in office and continuing after he left Congress, Weldon faced a federal investigation into whether he had driven business to his daughter's lobbying firm. A lobbyist and friend of his, Cecelia Grimes, pleaded guilty to attempting to throw away campaign and travel records that had been subpoenaed by a federal grand jury.
But Weldon has never faced charges stemming from the probe.
Born in Marcus Hook, Pennsylvania, Weldon, 63, was a mayor and county councilman before beginning his career in Congress in 1987.
CNN's Josh Levs contributed to this report
FOLLOW THIS TOPIC