STORY HIGHLIGHTS
Alassane Ouattara's forces say they expect to capture Laurent Gbagbo by Tuesday
U.N. peacekeepers are trying to prevent attacks on civilians
Security has "deteriorated dramatically," the U.N. chief says
Ouattara is internationally recognized winner of Ivory Coast presidential election
Editor's Note: Background context and explainer on what's causing the conflict in Ivory Coast
(CNN) -- Forces loyal to President Alassane Ouattara have surrounded the residence of rival Laurent Gbagbo, a spokesman for Ouattara told CNN Monday night.
Patrick Achi said he is about 80% sure that Gbagbo is still inside the presidential palace and will be captured by Tuesday.
"We do not see why he shall not surrender," Achi said, adding the new government may seek to have Gbagbo tried by the International Court of Justice.
CNN could not independently confirm Achi's claims, which include a report that Gbagbo's TV station was destroyed.
The United Nations said it did not know what might be happening at the palace.
U.N. helicopters fired on a camp controlled by Gbagbo on Monday to prevent the use of heavy weapons against civilians and U.N. peacekeepers, a U.N. spokesman said.
"The security situation has deteriorated dramatically" with an escalation of fighting between forces loyal to Ouattara and those loyal to Gbagbo, Secretary-General Ban Ki-moon said Monday.

Ivory Coast's humanitarian crisis

Reported massacre in Ivory Coast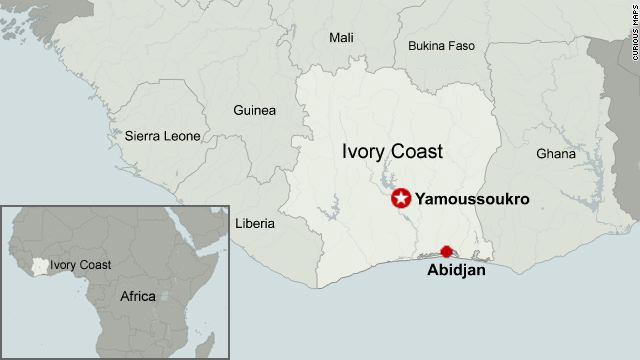 Map: Ivory Coast
U.N. Peacekeeping Director Alain Le Roy told reporters the body is not taking sides in the conflict, but had to act after three days of fire from Gbagbo forces that left four U.N. peacekeepers seriously injured.
Heavy weapons are close to the presidential palace and may be neutralized by Tuesday, Le Roy said.
Gbagbo refuses to transfer power to Ouattara, who has been internationally recognized as the country's president after elections there.
The fighting has taken a "heavy toll" on civilians, the secretary-general said in a written statement.
"In the past few days, forces loyal to Mr. Gbagbo have intensified and escalated their use of heavy weapons such as mortars, rocket-propelled grenades and heavy machine guns against the civilian population in Abidjan," he said.
French President Nicolas Sarkozy sent a letter to the secretary-general Monday confirming his decision to have French troops join the military operations conducted by UNOCI, the U.N.'s Ivory Coast mission.
"I, like you, believe that protecting civilians threatened in Cote d'Ivoire is an urgent necessity, together with the political efforts of the entire international community to resolve the current crisis in a manner that respects the sovereign choice of the Ivorian people," Sarkozy wrote.
"These forces have also targeted the headquarters of the United Nations Operation in Cote d'Ivoire (UNOCI) at Sebroko Hotel with heavy-caliber sniper fire as well as mortars and rocket-propelled grenades," the secretary-general said. "Four peacekeepers have been wounded in these attacks."
Several other peacekeepers were wounded in attacks on UNOCI patrols sent to protect civilians and convoys transporting wounded in Abidjan, the main city, he said.
Meanwhile, France urged its citizens in Abidjan to come to the embassy or a hotel for their safety, as a battle for the city loomed.
"Our ambassador in Abidjan issued a message to the French community informing them of this decision and giving them instructions to follow," Foreign Ministry spokesman Bernard Valero said Monday.
The relocation of Abidjan's 12,000 French nationals is voluntary, he said.
France sent an additional 350 peacekeepers to the country over the weekend and took control of the airport in Abidjan, the French Ministry of Defense said Sunday. The new French troops joined the existing United Nations peacekeeping mission of about 7,500 troops already in the country.
Foreign journalists reported being targeted and scrutinized. A group of journalists from the French TV channel France 2 were fired on by Gbagbo's forces when they tried to leave the Novotel hotel in Abidjan, according to the channel and two journalists who did not want their names used to protect their security.
Since then, Gbagbo forces have been patrolling the hotel premises, preventing foreign journalists staying there from leaving, the sources said.
A journalist in the city said Sunday that many people were afraid to leave their homes but were being forced to venture out to get water.
Seyi Rhodes, who is staying at a hotel in Abidjan, said people were risking being shot in order to get to a water pump near the hotel. He saw French journalists come under fire as they drove through the city, he said.
Much of the city has no electricity, he added, calling it "a really crude tactic to get people out on the streets."
U.S. Secretary of State Hillary Clinton demanded Sunday that Gbagbo step aside immediately.
"Gbagbo is pushing Cote d'Ivoire into lawlessness," she said, using the French name for the country. "He must leave now so the conflict may end."
She also called "on the forces of President Ouattara to respect the rules of war and stop attacks on civilians."
The International Committee of the Red Cross said Friday that 800 people had been shot to death in the western cocoa-producing town of Duekoue. A United Nations official put the death toll so far at 330 on Friday, and the investigation continues Tuesday.
The massacre occurred last week between Monday and Wednesday as Ouattara's Republican Forces led an offensive through the country to Abidjan, said Guillaume Ngefa, the deputy human rights director at the U.N. mission in Ivory Coast.
He blamed 220 deaths on forces loyal to Ouattara. Ngefa said pro-Gbagbo forces killed 100 people.
Other groups have different estimates on the number of deaths.
The Ouattara camp said it "firmly rejects such accusations and denies any involvement by the Republican Forces of Cote d'Ivoire in possible abuses."
But its ambassador to the United Nations said Monday evening he welcomes an international investigation because Ouattara believes in the rule of law.
"If some troops of ours have committed a crime, they will be responding before the court of law," said Ambassador Youssoufou Bamba.
Ouattara denied to the U.N. secretary-general that his forces were responsible, but said he had launched an investigation.
Ngefa said so far, 320 bodies have been identified, and the actual number could be much higher. He said the dead included civilians as well as mercenaries.
CNN's Aliza Kassim, Niki Cook, David Wilkinson, Claudia Dominguez, Carey Bodenheimer, Elise Labott, Karen Smith and Moni Basu contributed to this report
FOLLOW THIS TOPIC