Grandniece of slain Egyptian leader safe after kidnapping, family says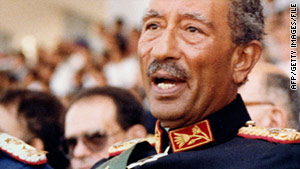 Egyptian President Anwar Sadat was assassinated in 1981.
STORY HIGHLIGHTS
NEW: The girl is reunited with her family
A brother of Anwar Sadat tells CNN earlier his grandniece was snatched
Kidnapping is extremely rare in Egypt
Cairo (CNN) -- Less than 24 hours after suspected kidnappers in Cairo seized a 14-year-old girl who is a grandniece of assassinated Egyptian President Anwar Sadat, a relative said early Monday that Zeina Sadat was back home with her family.
"Zeina has come back to home," Zein Sadat, the girl's great-uncle and one of the slain president's surviving brothers, said in a brief 1 a.m. phone call to CNN. "I am telling you that our girl is home."
Zeina Sadat was on her way to school in the upscale neighborhood of Heliopolis on Sunday when at least two men stopped the car in which she was traveling and beat up her driver, Zein Sadat said.
Sadat said the kidnappers had been in telephone contact with Zeina's father, and had demanded a ransom of 5 million Egyptian pounds (some $840,000) for her safe return. He offered few details to CNN about the details of her release.
Kidnapping is extremely rare in Egypt. And the targeting of a prominent political family is likely to raise fears in a country struggling with instability after the revolution that ousted Hosni Mubarak in early February.
Zein Sadat denied there were political motives for the kidnapping, saying the suspects appeared "unprofessional."
Anwar Sadat was assassinated in 1981.
FOLLOW THIS TOPIC


Part of complete coverage on

Pro-Mubarak supporters believe Egypt's former president is innocent of charges of corruption and killing protesters.

Fighting in Libya started with anti-government demonstrations in February and escalated into a nationwide civil war.

After months of seeming stalemate, Libyan rebels declared they were moving in on Tripoli. But who are they?

Six months and more than 17,000 air sorties after it began, NATO's Operation Unified Protector in the skies over Libya grinds on.

Click on countries in CNN's interactive map to see the roots of their unrest and where things stand today.

Are you in the Middle East or North Africa? Send iReport your images. Don't do anything that could put you at risk.

Behind the official smiles for the cameras some people in Libya's capital are waiting for the rebels, reports CNN's Ivan Watson.

Tunisia's Mohamed Bouazizi not only ignited a series of revolts but heralded the first appearance of Arab youth on the stage of modern history.


Most popular stories right now