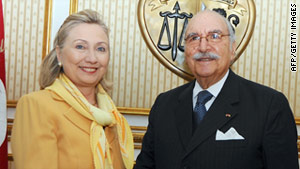 U.S. Secretary of State Hillary Clinton meets with Tunisian interim President Foued Mebazaa in Tunis on Thursday.
STORY HIGHLIGHTS
NEW: Clinton is applauded for expressing U.S. support for the Tunisian revolution
As Tunisia enjoys its newfound political freedom, different opinions emerge on Clinton's visit
Some warn Clinton not to try to influence the country's choice of leader
Others want the United States to help in neighboring Libya
Tunis, Tunisia (CNN) -- The little Arab country that started the region's wave of revolutions has wildly divergent reactions to the arrival of America's top diplomat.
Not surprising, perhaps, considering the political ferment Tunisia has enjoyed ever since the January 14 overthrow of its dictatorial president and his secret police enforcers.
In two short months, this country has gone from decades of strict one-party rule to an explosion of more than 30 registered political parties.
U.S. Secretary of State Hillary Clinton arrived in the North African nation Wednesday, part of a four-day trip that also included stops in France and Egypt. She's expected to consult with government officials and others on recent events in the region, according to the State Department.
About 200 people applauded her, as she walked into a room at the U.S. Embassy in Tunis. She said the United States supported the Tunisian revolution for democracy, and more loud applause erupted.
Clinton said she wants to hear directly from Tunisians on what they need and how the United States and the international community can help.
Some Tunisians whom CNN spoke with on the streets of the capital shared enthusiasm for Clinton and the U.S. government.
"President (Barack) Obama supported our people's revolution. He called for our people to have the right to chose their government," said Ajmi Lourimi, one of the leaders of the long-banned Islamist al-Nahda (Renaissance) party, who spent more than 16 years in prison under the regime of former President Zine El-Abidine Ben Ali.
"If she is working in the direction indicated by President Obama, then it's the right choice."
A few hundred yards away from the Parisian-style cafe where Lourimi was sipping cappuccino, a small group of leftist Tunisian demonstrators sang an entirely different tune.
They waved signs with anti-American slogans such as "Tunisia is free -- America get out."
"We want her to stay out," said Hawla Hammoun, a 21-year-old female university student wearing an Islamic head scarf, speaking in fluent, American-accented English.
"We know why she is coming here. She is coming here to find another alternative for the government that we toppled, to find someone else to sit here and to work for the ... American agenda for her here in Tunisia. That used to keep the people always under their control in order to be able to exploit the fortune of the country."
Only a short distance away from the demonstrators, a different view: The bespectacled manager of the Librairie al Kitab bookshop called on the U.S. government to intervene militarily to "stop (Moammar) Gadhafi's genocide" in neighboring Libya.
"Just drop a few bombs. That's all it would take to stop Gadhafi's forces," said Mohamed Bennour, standing next to a rack of books that, up until the fall of Ben Ali, were banned by Tunisian government censors.
"Before, it was forbidden by law and people were scared. No one would dare to gather like this and to speak in groups," said 26-year old Ines Amri, an English teacher.
She was watching the freewheeling political debates that now spontaneously take place among small crowds of Tunisians on the tree-lined promenade of Avenue Habib Bourguiba.
Amri was particularly worried about the future of women's rights now that Islamist political parties were allowed to operate freely in Tunisia.
But she also had a warning for one of the most powerful women in the world.
"Just come for diplomatic reasons," Amri said, speaking of Clinton. "But do not tell us what to do or treat us like babies, as if we're not going to make it without America. We can get our democracy without America."
One member of Tunisia's two-month-old interim government had his own message for Clinton: Thank you.
Until January 13, 33-year-old blogger and internet freedom activist Slim Amamou said he was handcuffed and being subjected to psychological torture by Tunisian interrogators for his online criticism of the Ben Ali regime.
Four days after his release, he was unexpectedly asked to become a minister of state in the new revolutionary government.
In an interview with CNN, Amamou said he believed Clinton's intervention on his behalf during a meeting with Tunisia's ambassador to Washington helped secure his release.
"This put pressure on the Ben Ali regime to get us out," Amamou said. "So this was very nice."
CNN's Elise Labott contributed to this report.
FOLLOW THIS TOPIC