Togo's opposition to protest measure to regulate protests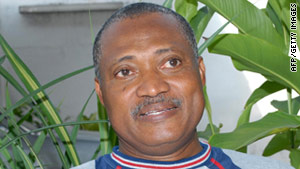 Jean-Pierre Fabre has denounced 'the physical abuse' inflicted upon opposition parties by the Togolese government.
STORY HIGHLIGHTS
The leader of Togo's opposition party denounces the legislation
Fabre says it's an effort to stifle public protest
The government denies it's a move to put down rallies similar to those in other countries
Lome, Togo (CNN) -- The leader of Togo's opposition party is vowing to hold street demonstrations next week against the government's efforts to regulate protests.
"The government is afraid of a spillover effect of the wind of change blowing from the north of Africa," charged Jean-Pierre Fabre, who heads the ANC, the French acronym for the National Progress Alliance.
Fabre, who came in second in the country's last presidential election, claimed the government's plan to submit to parliament draft proposals regulating public protest marches amounted to a maneuver to stifle Togolese rights to demonstrate.
In a news conference Thursday, he said the proposals constitute "a setback for our democratic achievements in Togo and we will do anything to get it rescinded," including holding a street protest next Thursday to prevent parliament's adoption of the draft.
Fabre's supporters have rallied in the capital every Saturday since his defeat in the March 2010 election, chanting that he's the legitimate winner and denouncing President Faure Gnassingbe.
Togolese Interior Minister Pascal Bodjona denied that the proposed legislation on public protests is an effort to prevent upheavals similar to those now taking place in other African nations.
"If we have to refer to what is happening elsewhere, it's not a piece of paper that can stop a revolution. The draft proposals are meant to establish guidelines for holding protest marches and not to kill liberties," Bodjona said.
"We just want to regulate the peaceful conduct of public streets marches," he added. "The Togo constitution guarantees the freedom of individuals to organize marches, but the proposals seek to protect ordinary citizens from harassment so that those who do not want to take part in protest marches can be allowed to go about their normal duties peacefully."
The minister, who is also the government's official spokesman, said the proposals had been extensively discussed with all political stakeholders and the civil society as far back as last December.
The current law regulating protest marches in Togo dates back to 1946, when the country was under French colonial administration.
FOLLOW THIS TOPIC