Egyptian protesters clash with troops over Mubarak documents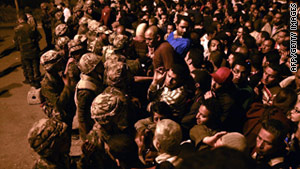 Protesters and Egyptian security and armed forces clashed Sunday outside the Interior Ministry headquarters in Cairo.
STORY HIGHLIGHTS
Demonstrators display burned papers, saying they relate to Mubarak's regime
The military warns "state security documents" must be returned
Some people badly beaten, protesters say
Cairo, Egypt (CNN) -- Protesters and Egyptian security and armed forces clashed Sunday outside the Interior Ministry headquarters as residents expressed anger at reports that documents relating to ousted strongman's Hosni Mubarak's rule were being destroyed.
Sunday's clashes capped a weekend of demonstrations outside the headquarters of Egyptian security organs over the reported incineration of documents relating to orders carried out under Mubarak. Protesters showed badly burned documents to reporters on Saturday, though the substance of the documents was impossible to determine.
Sunday, eyewitnesses told CNN that the armed forces responded by attacking the crowd outside the Interior Ministry. Gunshots could be heard, and protesters said they were struck by stun guns. Other protesters reported that pro-Mubarak gangs that operated in the waning days of Mubarak's rule made a comeback.
Protesters told CNN that these gang members threw Molotov cocktails at them and that some people were badly beaten.

Music marks hope, peace for Egypt
Egypt has been ruled by a military council since the revolt that toppled Mubarak in February. The generals issued a statement Sunday night that did not directly address the protests, but warned Egyptians that their "citizen's duty" was to return any documents from the security agencies immediately.
"Do not share state security documents with any news media," the military statement declared. "It is your duty as a patriotic citizen to hand over these documents to the military. Some of the documents contain specific names, and their disclosure could evoke a national security issue." Anyone caught acquiring or sharing those documents faced interrogation, it warned.
Mubarak stepped down February after more than two weeks of demonstrations that brought an end to his nearly 30-year rule. Protests have persisted as Egyptians demand promised reforms from the military government, which has said it will run the country for six months or until elections can be held.
CNN's Nima Elbagir contributed to this report
FOLLOW THIS TOPIC