Egypt names new foreign minister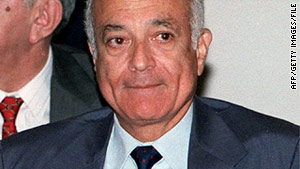 A file picture taken on July 28, 1997 shows Nabil Elaraby at United Nations headquarters in New York.
STORY HIGHLIGHTS
Nabil Elaraby is announced as new foreign minister
He replaces Ahmed Aboul Gheit
The shuffle comes a day after a former interior minister goes to trial
Cairo, Egypt (CNN) -- Nabil Elaraby, a former judge on the International Court of Justice, has accepted the post as Egypt's foreign minister, the state-run al-Ahram newspaper reported Sunday.
Elaraby replaces Ahmed Aboul Gheit, who had been foreign minister since 2004.
The cabinet shake-up comes a day after Egypt's former interior minister pleaded not guilty to corruption and money-laundering charges in the first trial for one of Hosni Mubarak's inner circle.
Angry protesters called for greater charges against Habib al-Adly, a man who many believe was Mubarak's right-hand man in squashing Egypt's uprising with violence.
During the demonstrations that began on January 25 and led to Mubarak's ouster 18 days later, protesters had called for al-Adly's removal after security forces fired tear gas and rubber bullets and beat people with clubs and batons.
Last month, Egypt froze al-Adly's bank accounts and placed a travel ban on him. He was arrested after Mubarak's fall.
FOLLOW THIS TOPIC