STORY HIGHLIGHTS
NEW: Ban says further steps on Libya may be necessary
U.S. officials have frozen at least $30 billion in Libyan government assets
U.S. President Barack Obama meets Monday with U.N. Secretary-General Ban Ki-moon
The European Union has imposed new sanctions against the Libyan regime
Washington (CNN) -- The United States has frozen at least $30 billion in Libyan government assets, a U.S. Treasury official announced Monday -- one of a series of steps being taken by international leaders designed to break strongman Moammar Gadhafi's grip on power.
The $30 billion is the largest amount ever blocked under any sanctions program, according to David Cohen, the acting Under Secretary for Terrorism and Financial Intelligence.
American officials slapped the sanctions on Libya last Friday, and the U.N. Security Council unanimously adopted a resolution on Libya on Saturday.
President Barack Obama met Monday with U.N. Secretary-General Ban Ki-moon to discuss a variety of measures under consideration. Ban later told reporters that "further action may well be necessary."

UN imposes sanctions on Libya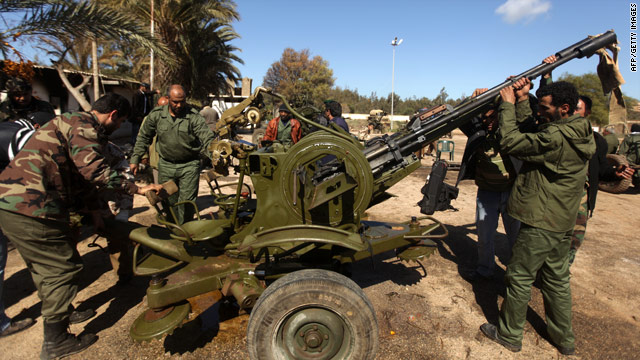 Video testimonials from Libya

Possible military aid to Libya

For rebels, a long road to Tripoli
Gadhafi "has lost his legitimacy when he declared war on his people," Ban said of the Libyan leader. "This is again a totally unacceptable situation. I sincerely hope and urge him to listen to the peoples' call. That's my message to him."
All options are still on the table, Secretary of State Hillary Clinton said at a meeting of the U.N. Human Rights Council in Geneva, Switzerland.
"Gadhafi and those around him must be held accountable (for any actions) which violate international legal obligations and common decency," she said. "Through their actions, they have lost the legitimacy to govern."
Susan Rice, U.S. ambassador to the United Nations, called Gadhafi "delusional," adding that "when he (Gadhafi) can laugh when talking to American and international journalists while he is slaughtering his own people, it only underscores how unfit he is to lead and how disconnected he is from reality."
The imposition of a no-fly zone over certain portions of the increasingly chaotic country is among the courses of action being contemplated, White House Press Secretary Jay Carney told reporters.
Carney indicated that exile is "certainly one option" for the Libyan leader. He also said that American officials are "actively reaching out" to Libyan opponents of the ruling regime, Carney said.
But any speculation on U.S. assistance to the Libyan rebels is premature, Rice said, calling it "unclear at this point who will emerge as the critical opposition element. We await to see how the opposition will coalesce."
Pentagon spokesman Col. David Lapan said the U.S. military is moving Navy ships closer to Libya.
Two U.S. Navy warships -- the carrier USS Enterprise and the amphibious assault ship USS Kearsarge -- are currently in the Red Sea and available to assist, U.S. military officials told CNN.
Lapan refused to indicate whether any American ground forces have been put on a heightened state of alert.
British PrimeMinister David Cameron echoed Washington's call for Gadhafi to step aside.
"We are taking every step possible to isolate the Gadhafi regime, deprive it of money, shrink its power and ensure that anyone responsible for abuses in Libya will be held to account," Cameron told members of Britain's parliament Monday.
In Brussels, the European Union banned the sale of arms and ammunition to Libya. It also prohibited any trade with Gadhafi's government that could lead to the acquisition of equipment that could be used for the repression of Libyans.
The EU also froze the assets of Gadhafi and five members of his family, while imposing a visa ban on Gadhafi and 15 other people tied to the regime's crackdown.
"The massive violence against peaceful demonstrators shocks our conscience," EU High Representative Catherine Ashton said. "It should also spring us into action."
Over the weekend, Italy suspended a treaty with Libya that includes a non-aggression pact, helping to pave the way for possible military action by U.S. or NATO troops. Italy is home to the U.S. Navy's Sixth Fleet.
Kurt Volker, a former U.S. ambassador to NATO, told CNN that Italy's suspension of the pact would not immediately suffice for military actions to be launched from that country.
The question, from the perspective of the Italian government, is "if you're really trying to think about military action, do you have some kind of authorization to do so?" he said in an interview. "You would need a U.N. mandate and possibly a NATO declaration or both, and there isn't anything like that on the table at the moment."
But, Volker said, others in the international community may soon have to decide whether to intervene militarily.
"At some point we have to face the question of are we willing to help them or not," he said.
The situation in Libya differs from that of Egypt, where the United States was trying to balance various interests, Volker noted. "We have no countervailing interests (here). ... (Gadhafi) has been a terrible dictator. He was a terror plotter. He blew up the plane in Lockerbie. So we have no reason not to be helping the people of Libya get rid of this tyrant."
Despite the growing international pressure, Gadhafi stood his ground Monday. Protesters fearful of violence stayed off the streets in Tripoli. Government officials warned that thousands of people could die if the popular uprising continues.
The death toll from the unrest -- now in its 14th day -- has already topped 1,000, according to a U.N. estimate.
Clinton noted Monday that U.S. humanitarian teams have been dispatched to Libya's borders at Tunisia and Egypt. Washington has set aside an additional $10 million for humanitarian aid, including medical supplies, she noted.
CNN's Tom Watkins, Lesa Jansen, Kelly Marshall Smoot and Larry Shaughnessy contributed to this report
FOLLOW THIS TOPIC