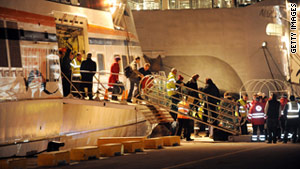 The Maria Dollores transferred passengers from Libya to Malta.
STORY HIGHLIGHTS
Tensions have heightened between Washington and Tripoli
Diplomats in Tripoli say U.S. Embassy was poorly protected there
The embassy suspended operations Friday
Valletta, Malta (CNN) -- Moments after a plane took off from Tripoli on Friday carrying the last American diplomats out of Libya, the White House announced it was suspending its embassy operations and imposing sanctions on the Ghadafi regime.
The news came after American officials caught in an increasingly perilous position completed an elaborate evacuation from Tripoli.
"We had not the best security," said Joan Polaschik, the embassy's acting head of mission. She spoke to CNN Friday night, shortly after a U.S.-chartered flight landed with evacuated American diplomatic personnel in Istanbul, Turkey.
"We don't have the typical fortress America embassy compound (in Tripoli). In fact we have a group of residential villas," Polaschik added.
Unlike most American diplomatic posts around the world, the U.S. Embassy in Tripoli had no Marine guard presence. Instead, it relied on security guards provided by the Libyan government.
And while other American embassies and consulates have been substantially reinforced in recent years to protect against bomb and mob attacks, the embassy in Tripoli consisted of six villas in a poorly protected compound.
"The Libyans did not give the U.S. permission to build an embassy," said another recently evacuated American diplomat, who spoke on the condition of anonymity.
Relations dramatically improved between Washington and Tripoli after Moammar Gadhafi renounced his weapons of mass destruction program in 2004. But establishing a formal American diplomatic presence took time.
As recently as September of 2009, American diplomats were still operating out of several suites in Tripoli's Corinthia Hotel, a pricey high-rise often frequented by foreign businessmen looking for lucrative contracts with the oil-rich Libyan government.
The U.S. diplomat who had just been evacuated with hundreds of other foreigners as well as American embassy staff via ferry-boat to Malta, told CNN the Libyans were far behind schedule on building a more permanent facility to house American diplomatic offices and residences.
In a statement Wednesday, U.S. President Barack Obama highlighted his concerns about the safety of American citizens and embassy staff, and also condemned the Libyan government's use of deadly force against its own citizens.
Obama stressed that American diplomats were doing heroic work in Libya.
Indeed, Friday's evacuation came after months of increasing tensions between the Libyan government and the U.S. embassy.
According to the U.S. diplomat, an American political officer left the country in November after Libyan officials expressed anger at his unescorted visits to isolated parts of the country inhabited by Berbers.
"He was almost declared (persona non grata)," the diplomat said.
Relations further deteriorated after leaked American diplomatic cables embarrassed and outraged the Ghadafi government, prompting the departure of U.S. Ambassador Gene Cretz.

Embassy head: 'We were lucky to get out'
A memo released by the whistle-blowing web-site Wikileaks described lavish parties thrown by one of Ghadafi's sons on the Caribbean island of Saint Bart's. Pop singers Beyonce and Usher were paid large sums to perform at the gathering, the memo said. Another cable poked fun at the way Ghadafi always seemed to be accompanied by a voluptuous Ukrainian nurse.
"Ambassador Cretz departed Tripoli in December ... due to the Wikileaks problem," Polaschik said. "So I've been running the embassy since that time.
Friday's evacuation came after days of delays and escalating violence in the streets.
Due to a gale in the southern Mediterranean, hundreds of evacuees had to spend two nights moored in Tripoli harbor aboard the U.S.-chartered ferry Maria Dollores. It wasn't until seas calmed on Friday afternoon that the vessel finally set out on the six-hour passage from Libya to Malta.
Meanwhile, other American diplomats were performing a harrowing two-stage evacuation out of Mitiga airport, east of Tripoli.
"One team went there to help the American citizens. The second team ... then stayed to finish up operations at the embassy and basically lock up the door and leave," said Polaschik, the acting chief of mission. "The second team almost got caught in a firefight (on the way to the airport)."
But she added that only a fraction of the 110 Americans who were expected to take Friday's escape flight to Istanbul managed to reach the plane before it departed from Mitiga airport, to the east of Tripoli.
"It was impossible, I think, for up to 90 citizens who were trying to reach our U.S. government charter at Mitiga airport to join us," Polaschik said. "There are at least 90, possibly more American citizens who are hoping to get out of Tripoli."
Governments around the world are working together to evacuate tens of thousands of foreign nationals from Libya by land, sea and air.
On Saturday, a Maltese government official, speaking on condition of anonymity, told CNN that all foreign ground staff were being evacuated from Tripoli International Airport. Multiple eyewitnesses describe Libyan police using clubs and firing guns in the air to push back thousands of travelers desperate to catch flights out of the country.
FOLLOW THIS TOPIC