STORY HIGHLIGHTS
NEW: Opposition leader ElBaradei shares his vision for what government might look like
Some opposition leaders say they will meet with the government; others dig in
5,000 people have been injured in the demonstrations, the health ministry says
After two days of violent clashes, Mubarak's supporters are notably absent
Follow live blogging on "This Just In" and the latest tweets from CNN correspondents from the protests. Send your video, images to CNN iReport.
Cairo, Egypt (CNN) -- Egypt's burgeoning reform movement drew tens of thousands of people, undeterred by deadly clashes and government crackdowns, to Cairo's Tahrir Square on Friday for a mass rally with a single message for the president: "Leave."
The central Cairo plaza transformed from a bloody battleground to the scene of a largely peaceful political rally dubbed "Day of Departure" as Egyptians gave embattled President Hosni Mubarak until the end of the day to relinquish power.
Protesters did not get their wish and thousands remained in the square well into the night, defying a curfew that has been widely ignored. Heavy gunfire was heard in and around Tahrir Square.
Among the demonstrators were the secretary-general of the Arab League and the spokesman for the largest center of Sunni Muslim learning, two men representing pillars of authority.
Attempts to defuse the crisis, meanwhile, were halting but ongoing. Government brass had signaled a wish to meet with opposition leaders but those talks have not yet gained traction, a senior U.S. official told CNN Friday.
Vice President Omar Suleiman's offer to meet opposition groups fell flat, said the official, who did not want to be identified because of the sensitivity of the rapidly evolving situation. No key opposition leaders showed up.

CNN ordered not to film Egypt protests

Egypt's 'day of departure'

Anderson Cooper takes on intimidation

Fire truck mows down protester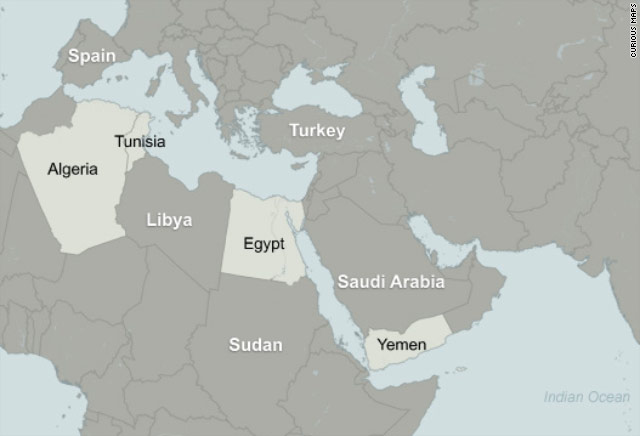 At a glance: Nations facing unrest
That opposition, a disparate group of at least six factions and political groups nominally headed by Nobel laureate Mohamed ElBaradei, is still "jockeying," the official said, hedging their bets on how events will play out. Some have refused to negotiate until Mubarak steps down.
"The so-called dialogue is the first step to exhaust this revolution. The president must go," said Mohammed Habib, deputy chairman of the Muslim Brotherhood, an opposition Islamist group officially banned by the government.
Some opposition parties that had previously refused to meet with government officials, however, told CNN Friday they have agreed to meet with Suleiman on Saturday.
Refat Said, head of the left-leaning Tagammuparty, said his group will meet with the vice president, as will the liberal Wafd party. Ayman Nour, head of the al-Ghad party, said members of his group will decide soon on whether they will accept the government's invitation to meet.
"Based on promises that the government gave us that they will investigate into the Tahrir Square clashes, we agreed to meet tomorrow," said Fouad Badrawi, secretary-general of the Wafd party.
And 19 men, including veteran diplomat Amre Moussa, have formed a so-called "Committee of the Wise" in a bid to calm the crisis. The group of independents, which wants to be at the table during crucial government talks, has called for Mubarak to remain as a symbolic leader and to delegate to Suleiman responsibility for the transition period.
Day 11 of the uprising was mostly jubilant in Cairo's downtown square, but tensions remained high.
In another plaza just half a kilometer away from Tahrir Square, supporters and foes of Mubarak fought running street battles. Youths wielding sticks and rocks engaged in fights and the sound of gunfire rang out.
The Muslim Brotherhood reported that a security force accompanied by a "gang of thugs" stormed the office of its news website Friday and arrested the journalists, technicians and administrators. The satellite news network Al-Jazeera reported a similar attack on its Cairo office.
Those attacks came after two days of violence and a government crackdown on journalists and human rights activists bearing witness to the crisis. Some had predicted the demonstrations might lose their momentum.
That was hardly the case as anti-government protesters jammed TahrirSquare chanting slogans like "He leaves, we don't leave" and "The blood of the martyrs will not be forgotten." A massive banner in the middle of the square said in English: "The people demand the removal of the regime."
The demonstrators built a barbed-wire barricade and stacked piles of rocks throughout the square, surrounded Friday by soldiers in riot gear and tanks.
Volunteers checked identification cards of people entering the square and searched them for weapons. Others stood by with emergency medical kits.
Large screens showed coverage of the demonstrations on state television and Al-Jazeera as people played music, sang patriotic songs and danced. A man with an Egyptian flag wrapped around his head sat on a curb, flashing a victory sign.
It was a remarkable change from the scenes that unfolded in the square Wednesday and Thursday when pro- and anti-Mubarak supporters clashed repeatedly, leaving at least 11 people dead and more than 900 others injured.

Journalists, citizens attacked in Egypt

Who is instigating the Cairo violence?

Mubarak regime's tactics 'failed'

What is Mubarak's exit strategy?
The Health Ministry reported that at least 5,000 people have been injured since the demonstrations began in Egypt early last week.
Many believe the violent clashes were orchestrated by the embattled regime and on Friday, the United Nations Office of the High Commissioner for Human Rights called for a "transparent and impartial" probe.
But defenders of Mubarak were notably absent from the square Friday. Instead, they staged a "Day of Loyalty" rally at a nearby mosque.
Mubarak has said he will not seek another term in the September election, but now faces increasing pressure from the United States and other world powers to step aside much sooner.
U.S. President Barack Obama skirted the question of whether Mubarak should resign immediately Friday, saying instead that the "key question" the Egyptian president should be asking himself is "how do I leave a legacy behind" that helps Egypt get through the current transition.
"There needs to be a transition process that begins now. That transition must initiate a process that respects the universal rights of the Egyptian people and that leads to free and fair elections," Obama said.
Later, a senior U.S. official said that Obama's remarks reflected the fact that the United States recognizes that certain legitimate legislative hurdles must be taken care of before Mubarak steps down. While pressing for Mubarak to act quickly, the U.S. official said the White House recognizes the process will take some time.
The Obama administration is hopeful negotiations will begin Saturday between members of Mubarak's government and various opposition representatives, the senior U.S. official said.
Egyptian Prime Minister Ahmed Shafiq told the Al-Arabiya network that it would take until September to work out constitutional issues so that a new government could come to power.
At this juncture, said Shafiq, compromises were key as the country pursues dialogue with opposition groups.
Opposition leader ElBaradei told CNN's Eliot Spitzer late Friday that he has been in contact with various parties, united in their belief that Mubarak must go.
"We have been in agreement right now that we'd probably have a presidential council of three members including somebody from the army. We have a caretaker government ... who would then run the country for a year, prepare the grounds for the necessary changes in the electoral process to ensure that we will have all what we need for a free and fair election," he said.
ElBaradei did not rule out the possibility of his running for president.
The thirst for immediate change was evident as rallies took place in several Egyptian cities.
In Alexandria, thousands made their way from the city's central mosque down the wide seaside Corniche.
"This is a great revolution and the whole regime, the entire system needs to be changed. The revolution must continue until all objectives are met," the mosque's imam told the crowd.
Writing on the walls leading to the mosque, where police and anti-government demonstrators clashed last Friday, said "Game OVER" and "Pharaoh's last day."
Roughly 35,000 people took to the streets Friday in the city of Suez, a spokesman for opposition leader Ayman Nour told CNN.
Among the protesters in Cairo was Moussa, the Arab League's secretary-general, and Muhammad Rifaa al-Tahtawi, spokesman for Al-Azhar University, the prestigious center for Sunni Muslim education.
Al-Tahtawi told CNN he resigned from his Al-Azhar position and joined the anti-government protesters in Tahrir Square.
"I am against the regime. And I am supporting the revolution," he said.
Mubarak told ABC News Thursday that he would like to step down right away, but cannot because he does not want to risk plunging his nation into chaos.
"I don't care what people say about me," Mubarak told ABC. "Right now I care about my country, I care about Egypt.
"I was very unhappy about yesterday. I do not want to see Egyptians fighting each other," he said in the interview conducted at the heavily guarded presidential palace, where the embattled leader has been staying with his family.
He accused the Muslim Brotherhood for instigating the violence, while his deputy also laid blame on the media.
"I actually blame certain friendly nations who have television channels, they are not friendly at all, who have intensified the youth against the nation and the state," Suleiman said on Nile TV. "They have filled in the minds of the youth with wrongdoings, with allegations, and this is unacceptable."
The government cracked down Thursday, arresting and beating journalists and human rights workers documenting events.
The harassment continued Friday with the storming of Al-Jazeera's office in Cairo. The network reported its office was attacked and burned by "gangs of thugs."
In the last week its bureau was forcibly closed, all its journalists had press credentials revoked, and nine journalists were detained at various stages. Al-Jazeera has also faced unprecedented levels of interference in its broadcast signal as well as persistent and repeated attempts to bring down its websites, the network said.
Late Friday, Human Rights Watch, a rights organization, said that Egyptian authorities had released researchers from its group, Amnesty International and two foreign journalists. It called on officials to also free its Egyptian colleagues, who it says are still detained.
"Why doesn't the government want us around?" asked New York Times columnist Nicholas Kristof, "What is it that it plans to do in the next few days that it really doesn't want cameras to be able to report on?"
The Committee to Protect Journalists, a New York-based advocacy organization, said Friday it has documented at least 101 attacks on journalists and news facilities this week. The advocacy group cited numerous media reports claiming that Ahmad Mohamed Mahmoud, a journalist working for the newspaper Al-Ta'awun, had died of wounds suffered while filming the protests.
White House Press Secretary Robert Gibbs said the administration continues "to receive very disturbing reports" of "systematic targeting" of journalists in Egypt.
Appalled by the attacks, U.S. officials encouraged Mubarak's government to plan a path out of power.
Vice President Joe Biden urged his Egyptian counterpart to ensure that "credible, inclusive negotiations begin immediately" with opposition political groups to expedite the creation of a new democratic government, according to a statement from Biden's office.
The U.S. Senate, meanwhile approved a resolution calling for Mubarak to immediately begin a peaceful transition and transfer power to a caretaker government.
CNN's Amir Ahmed, Ivan Watson, Jill Dougherty, Nic Robertson, Saad Abedine and journalist Ian Lee contributed to this report.
FOLLOW THIS TOPIC