STORY HIGHLIGHTS
One in four of Lesotho's two million population are infected with HIV
Some people with HIV must travel for hours across a rocky landscape to receive treatment
A new program uses ponies to deliver drugs to clinics in remote communities
Maseru, Lesotho (CNN) -- No mountain is too high for horse riders in Lesotho, who have come up with a unique way of delivering AIDS drugs to remote communities cut off by the country's steep and rocky terrain.
Although it is completely surrounded by South Africa, Lesotho is its own country, with unique customs, culture and challenges.
One challenge for Lesotho is its mountainous landscape, with 80% of the kingdom above 1,800 meters. But the small kingdom has another, more deadly, problem: More than one in four of its two million people are infected with the HIV virus.
But the rugged landscape makes it difficult to deliver life-saving treatment to AIDS sufferers.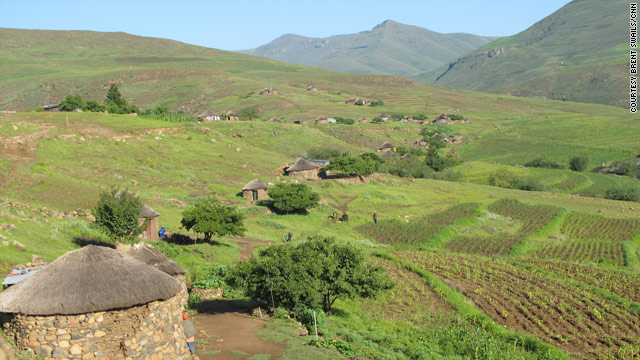 Gallery: Horse riders save lives
Dr. Leo Buhendwa is country director for the Elizabeth Glaser Pediatric AIDS Foundation. He decided something had to be done to help mountain communities who are often unreachable by road after heavy rains and winter snow.
"Thirty percent of the population was cut off for four months," he said.
"What that means is that for four months they couldn't access care, they couldn't access treatment, and they couldn't access prevention services. So we had to find a solution."
Buhendwa's solution was to set up the Horse Riding for Health program, adapting an old tradition to help those unable to access care.
Ponies are part of life here ... in the winter there is no other means of transport.
--Dr. Leo Buhendwa, Elizabeth Glaser Pediatric AIDS Foundation
"Ponies are part of life here," said Buhendwa. "They use ponies anyway in the mountains -- in the winter there is no other means of transport. So we adapted the reality we found to reach our objectives," he said.
Mabusang Sehaja has a young daughter with HIV. Sehaja said that in order for her daughter to receive treatment they must travel for an hour and a half through steep and rocky terrain.
The remote clinic Sehaja and her daughter visit is the closest one to their village, which treats 152 HIV patients.
The clinic is so hard to reach that its nurse lives on site because commuting to work would be too difficult. It now receives help from the program, with four horse riders working in the area.
One of the riders is Potso. He begins his day early in the morning, with a 30-minute ride to a Red Cross clinic, where he collects a supply of lifesaving drugs.
From there he leaves the main road and makes a grueling ride through the mountains to the clinic where Sehaja and other patients await test results and drugs.
Buhendwa says it is the local knowledge of horse riders like Potso that makes the program a success.
"If you don't study how to bring a message, you shock people," he said. "In Lesotho we are still traditionalists, and when you shock people you shock the traditional elements and then the message cannot pass.
"When you work with people to solve their own problems, always there is a solution. As doctors, as nurses, as international partners, we are just there to help. We cannot do it ourselves -- we have to do it with the communities."
Potso rides up the same stretch of mountain several times a week to make sure the clinic storeroom is fully stocked with antiretroviral drugs.
Like nearly everyone in the country he has been personally affected by HIV. His brother was a victim of the virus.
"If my brother was aware of HIV and AIDS and the drugs that were available, he wouldn't be dead," said Potso.
"I wanted to be a horse rider, because I wanted to help the people," he added. "I didn't want to be in that disaster again."
FOLLOW THIS TOPIC