Former South African President Nelson Mandela hospitalized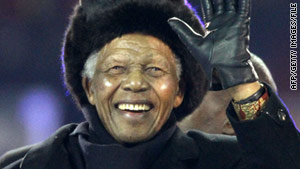 Nelson Mandela's last public appearance was during the World Cup in July.
STORY HIGHLIGHTS
Mandela's foundation says "he is in no danger"
Mandela, 92, is described as "frail" by Archbishop Desmond Tutu
He last made a public appearance in the summer
Johannesburg (CNN) -- Former South African President Nelson Mandela has been hospitalized for "routine tests," his foundation said Wednesday.
"Mr. Mandela is at Milpark Hospital undergoing routine tests," the Nelson Mandela Foundation said in a statement. "He is in no danger and is in good spirits."
Mandela was flown to the Johannesburg hospital Wednesday from Cape Town, where he was on vacation, said a source close to the Mandela family who is not authorized to speak to the media.
Activity at the hospital continued as usual Wednesday afternoon, the South African Press Association said.
Archbishop Desmond Tutu of South Africa told the press association on Tuesday that Mandela is "frail."
"I saw him last week," Tutu said from Cape Town. "He was all right. I mean, he's 92 ... and he's frail."
Mandela rarely makes public appearances. His last appearance was at the closing ceremonies of the World Cup in South Africa over the summer.
He recently released a new memoir, "Conversations With Myself."
Under South Africa's apartheid regime, Mandela spent 27 years in jail after being convicted of sabotage and attempts to overthrow the government. He was released in 1990 and returned to the leadership of the African National Congress party. South Africa repealed apartheid in 1991.
CNN Johannesburg Bureau Chief Kim Norgaard contributed to this report.
FOLLOW THIS TOPIC