STORY HIGHLIGHTS
Moise Katumbi is the governor of the resource-rich Katanga province in the DRC
He is rebuilding Katanga's roads and has launched a school improvement program
He's also the owner of TP Mazembe, one of Africa's most successful football teams
Last year the team became the first African team to reach FIFA Club World Cup final
Every week CNN International's African Voices highlights Africa's most engaging personalities, exploring the lives and passions of people who rarely open themselves up to the camera. This week we profile Moise Katumbi, the governor of Katanga province in the Democratic Republic of Congo.
Katanga, Democratic Republic of Congo (CNN) -- Since he was elected governor of Katanga province in the Democratic Republic of Congo in 2007, Moise Katumbi has been intent on change.
From fixing roads to repairing factories and schools, Katumbi has been leading a rebuilding program that he hopes will transform the mineral-rich province.
Those efforts have helped Katumbi earn what seems to be genuine affection from the people. It isn't uncommon for him to be met by cheering crowds wherever he goes in Katanga.
His popularity is also boosted by his ownership of TP Mazembe, the remarkably successful football team that comes from the area and which made history last year when it became the first African team to reach the FIFA Club World Cup final.

A passion for football

Rebuilding the DRC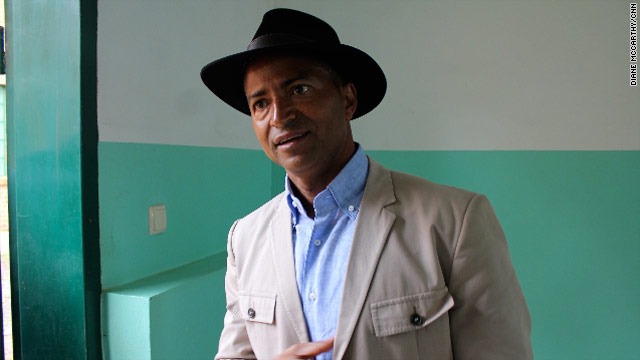 Gallery: Moise Katumbi
"I can't live without my soccer team," says Katumbi. If he had to choose between the governorship and being chairman of the team, "I think I'll go to my team," he says.
A self-made businessman, Katumbi worked his way up from selling fish as a teenager from the back of his brother's truck to becoming one of the DRC's most successful entrepreneurs.
His business acumen led to calls for him in 2007 to enter politics. That's something Katumbi says initially he was reluctant to do.
"After a lot of talking on the end they convinced me to try," he said. "I promised the president, if I'm not doing well I'm going to resign because I don't know politics."
Four years later, his success in regulating Katanga's previously chaotic natural mineral extraction, coupled with his efforts to accelerate the area's rebuilding process, have made him an increasingly important figure in a country still facing massive problems after years of conflict.
Determined to make a difference as a governor, Katumbi has launched a school improvement program to make sure all of the province's children have access to a decent education.
He estimates that presently only 30% of Katanga's children go to school. His goal is to take that figure as close to 100% as possible by 2015.
I like doing social programs for the people, that's why I'm in soccer. Soccer is social.
--Moise Katumbi
"Education is even more important than mining," Katumbi says. "If you don't have minerals at least the children will be educated. They are going to run this country properly because the future is these children."
But it's not just the education infrastructure that Katumbi wants to improve -- the governor's priorities include an ambitious road building program.
"There were no roads before -- you had to choose which roads to go on with journalists," he says. "Today you can go on any road. We have more than 1,000 kilometers of tar road. In Katanga you need 12,000 kilometers."
Despite the progress in Katanga, Katumbi says much still needs to be done to improve living conditions in an area with vast untapped deposits of raw materials.
He describes Congo as a "geological scandal," pointing out not only the country's abundance of minerals, but also its good quality of soil and availability of water.
"The people have seen a lot of change, which really is a small change for me," he says. What he's done in the province "maybe is 7% of my expectation, not even 10%."
He says he doesn't plan to be in power much longer but he hopes his successor can continue and even outdo the work he has started.
If Katumbi does step down, he'll have more time to indulge his other great passion -- football.
He says the potential for social change that football brings is one of the elements that have inspired his devotion to the sport.
"Soccer is something very good for the kids to do...to stay out of doing bad things," Katumbi says. "I like doing social programs for the people, that's why I'm in soccer. Soccer is social. I don't like anyone to suffer."
FOLLOW THIS TOPIC