STORY HIGHLIGHTS
NEW: "The situation is stable," interim president says
Fouad Mebazaa: Initiating reform and bringing about reform are on the agenda
French authorities last week stopped shipment of law enforcement gear
Protesters stage a noisy but peaceful rally in Tunis
Tunis, Tunisia (CNN) -- Tunisia's interim president said Wednesday the country's new government plans to sever "any link with the past," a reference to the widely unpopular years of rule by the former regime.
In remarks aired by Tunisian state TV and Al-Jazeera, Fouad Mebazaa said his government intends to bring about security and initiate reforms.
"We will personally ensure that the government will implement all its promises to the people, beginning with completely cutting any link with the past," he said.
He made the comments on a day when thousands of protesters, angered by impoverished living conditions and government corruption, staged a noisy but peaceful rally in Tunisia's capital, and an Arab League official said the unrest illustrates "the great social shakes" affecting Arab countries.

CNN crew caught in Tunisia tear gas

What do the opposition in Tunisia want?

Tunisia's uncertain future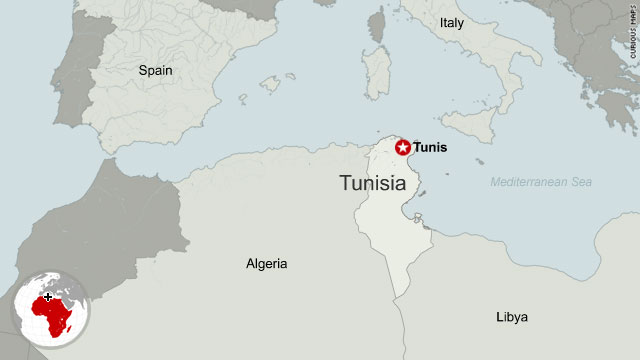 Unrest in Tunisia
The grass-roots rage against government corruption and poor living conditions led to last week's ouster of Zine El Abidine Ben Ali after 23 years of rule and left his interim successor trying to sound reassuring.
"We'd like to inform and assure you that we have identified those responsible for spreading chaos in the country and terror in the hearts of the citizens, and we have arrested the gangs," Mebazaa said. "The situation is stable."
In a reference to the restrictions on bloggers and members of the news media under Ben Ali that played a role in inflaming Tunisians, Mebazaa said that the "media must be free from all restrictions in order for them to practice their sensitive role" and they "are required to respect the ethics of the profession before everything."
In Tunis, crowds tramped down Avenue Habib Bourguiba, singing the country's national anthem and chanting against the former ruling party and the former president, who fled to Saudi Arabia.
The marchers stopped at a police line, where they stood face to face with the officers, but there was no conflict. Witnesses said the police appeared more relaxed than in previous days, with the officers holding their ground but not acting aggressively.
By the afternoon, thousands of people had taken over the heart of the capital, exercising that rarest of rights in the Middle East: freedom of speech.
They spoke in different ways: One man played a harmonica, others chanted, some carried a mock coffin -- a symbol of the interim government. Many talked freely to reporters.
Their unity was divided only by the occasional passing of trams, whose exterior walls served as canvases emblazoned with spray-painted slogans denouncing the former ruling party and the Constitutional Democratic Rally. Tram riders and drivers held protest signs, too.

U.S. flies 70 citizens out of Tunisia

Tourists beaten on Tunisian street

Why are Tunisians still protesting?

Tunisian protesters want to clean house
The peaceful, almost festive atmosphere was in contrast with that of previous days in Tunis, when police lobbed tear gas and dispersed peaceful marchers with batons.
As protesters chanted, an army helicopter flew over the city, drawing a cheer from the crowd. Many view the army as a calming factor in the street conflict and see the police as aligned with Ben Ali and his party.
In many parts of the capital, life was nearly normal. Streets were busy and shops, cafes, and restaurants were open.
Tunisian officials are attempting to keep afloat the country's unity government, formed this week with members of the opposition and the Ben Ali party.
But protesters are demanding that the old guard be swept from power.
Mebazaa and Prime Minister Mohammed Ghannouchi resigned from the ousted leader's ruling party, state TV said Tuesday, a move seen as intended to placate street demonstrators and keep the unity government afloat.
But at least four ministers from opposition parties have pulled back from the new government, leaving some observers predicting that the coalition may collapse before it can set a date for new elections.
The unrest was triggered in December when Mohamed Bouazizi, an unemployed college graduate, set himself ablaze after police confiscated the fruit cart that was his sole source of income. He died this month.
More than other 100 deaths have occurred since, the U.N. High Commissioner for Human Rights Navi Pillay said Wednesday, when she announced plans to send an assessment team to Tunisia.
Pillay told reporters in Geneva, Switzerland, that "human rights abuses were at the heart of Tunisia's problems, and therefore human rights must be right at the forefront of the solutions to those problems."
Pillay said that she expects her team, in addition to gathering information about the current and past human rights situation, to come back with a set of proposals for action on issues related to past abuses as well as future reforms.
"It is essential that we, the international community, give our full support to their call for freedom and for the full respect of human rights for everyone in Tunisia," Pillay said.
The Swiss Foreign Ministry website said authorities there have decided to freeze any assets belonging to Ben Ali or his "entourage."
Saudi Foreign Minister Prince Saud al-Faisal defended his nation's acceptance of Ben Ali.
"Sheltering anyone is an Arabic tradition, and we are all Arabs, so whoever asks for refuge should be received," he said.
Meanwhile, French customs agents stopped a private shipment of law enforcement equipment bound for Tunisia that included tear gas grenades and bullet-proof vests, French government spokesman Francois Baroin told reporters in Paris.
The equipment, which had been requested by Ben Ali, was due to leave the Roissy-Charles de Gaulle airport outside Paris on Friday, the day Ben Ali fled Tunisia.
International powers have said they expect the interim government to hold free and fair elections, and Ben Ali's flight has emboldened Tunisian opposition figures.
Monsef al Marzouki, the leader of Tunisia's National Congress Party -- a leftist and secularist movement that was banned by Ben Ali's ruling party -- has returned to Tunisia from exile in Paris.
On Tuesday, Marzouki told CNN he'll run for president "if there are fair and transparent elections" and will call for changes to the constitution.
He said he objects to members of the Ben Ali party holding on to the main ministries, referring to the defense, finance and foreign ministries, as well as the post of prime minister, even though Ghannouchi submitted his resignation from the ruling party.
"They are trying to hijack the revolution that the people of Tunisia have achieved," Marzouki said. "The revolution requires a total break with the past."
Marzouki called for "more peaceful demonstrations" and urged the government to remove all members of Ben Ali's party.
"The RCD party is a dictator party, and this party needs to be dissolved," he said, using the acronym for the Constitutional Democratic Rally. "We even consider the current Parliament and government institutions (consisting of RCD members) as nonexistent, politically."
The ouster of Tunisia's longtime ruler has cast a shadow over the surrounding region, Amr Moussa, secretary-general of the Arab League, said Wednesday.
"It is on everybody's mind that the Arab spirit is broken," he said at the Arab League economic summit. "The Arab spirit is down by poverty, unemployment and the general decline in the real indicators of development."
Moussa said the "revolution happening in Tunisia is not far from the subject matter of this summit, namely the socioeconomic development and the extent of its balance, expansion, comprehensiveness and fair distribution."
Neighboring Algeria was wracked last week by rioting, triggered by spiraling costs of basic foods after its government slashed price supports for staples like milk, oil and sugar. State-run media reported at least three people died in the clashes.
Libya's longtime strongman, Moammar Gadhafi, mourned Ben Ali's ouster and warned in a nationally televised speech that Tunisia was facing "unjustified chaos." And this week in Egypt, several people set themselves afire -- the same type of protest that triggered Tunisia's demonstrations.
Back on the streets of Tunis, one man said Tunisia's revolution is being closely watched by leaders of other countries in the region. "They are afraid of the threat of the Tunisian revolution, of the Tunisian experience of democracy because they are all, with no exception, dictators," he said. "They're the worst kind of people. They're tyrants who have opposed us for decades."
Then, addressing a reporter for a U.S.-based network, he added, "But you in the West honor them as heroes." He added, "From now on, America must befriend the people, not their leaders."
In Washington, State Department spokesman P.J. Crowley said on his Twitter account: "The people of Tunisia have spoken. The interim government must create a genuine transition to democracy. The United States will help."
In Amman, Jordan, several hundred demonstrators gathered Sunday in front of parliament to complain about plummeting living standards, high unemployment and soaring costs -- the same complaints that reverberated throughout Tunisia. "I don't think this government is going to be able to do anything," one man said. "I think this government should go."
Jordan's government appears to be listening. Last week, it announced a $225 million plan to slash taxes, lower prices and create jobs. But officials insist that the situation in Tunisia is nothing like that in Jordan.
"What happened in Tunisia is enormous, it's historic," Ayman al-Safadi, deputy prime minister of Jordan told CNN. "Is it relevant to Jordan? No."
Jordan is a monarchy, where it is a crime to criticize the king and authorities wield an extensive security apparatus that has prevented turmoil and stifled dissent.
Juan Cole, a Middle East historian at the University of Michigan and a blogger, said other governments in the region -- particularly Jordan -- may face similar problems, but Tunisia is "a little bit unique."
Tunisia, he said, is the "most secular country in the Arab world." Its traditions have favored women's rights and its Islamist influence is negligible.
Because Tunisia lacks the oil resources of other Arab states, Ben Ali was unable to buy off a restive population, Cole said. But Tunisia also lacks the ethnic divisions seen in other Middle Eastern countries, which made it harder for opposition movements to unite.
Ben Ali appeared to lack the support of the military, as evidenced by his last-ditch firing of his army chief of staff, Cole said. In Jordan, it would be "impossible" to imagine the Bedouin-dominated officer corps siding with the country's ethnic Palestinians against the Hashemite royal family, he added.
CNN's Matt Smith in Atlanta, Georgia, Ivan Watson in Amman, Jordan, and Ben Wedeman in Tunis contributed to this report
FOLLOW THIS TOPIC