STORY HIGHLIGHTS
South African Sibusiso Vilane is the first black African to climb Mount Everest
Vilane has scaled the highest mountains on seven continents
He spent 12 years working in the bush as a conservationist
Every week CNN International's African Voices highlights Africa's most engaging personalities, exploring the lives and passions of people who rarely open themselves up to the camera. This week we profile Sibusiso Vilane, the first black African to climb Mount Everest.
(CNN) -- Having endured ferocious snow storms and frigid temperatures, Sibusiso Vilane climbed his way into the record books in 2003, becoming the first black African to conquer Mount Everest.
Standing on top of the world, the South African adventurer says, was the highlight of his life.
"Realizing that finally I was there, that the message that I had been carrying for 60 days, that we Africans can reach great heights, was all over the world -- the feeling was even if I could collapse at that time and pass out and die, I would not have had a problem. I would have been the happiest person ever," Vilane says.
The news of his landmark ascent made headlines across the world and turned Vilane into an instant celebrity in South Africa.
"It was amazing because when I left I didn't think that the whole country was going to be so excited and so cheerful," Vilane says.
Nelson Mandela hailed him "a real hero," while then-President Thabo Mbeki said his feat had made all South Africans "stick out our chests in justifiable pride and wonder."

Scary moments on Everest

Endurance in the Antarctic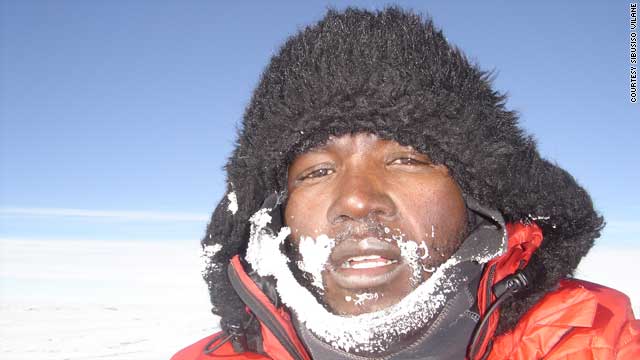 Gallery: Adventurer Sibusiso Vilane
But conquering Everest's treacherous slopes wasn't the only time the adventurer would make history.
In January 2008, Vilane became the first black African to walk completely unassisted to the South Pole -- "unassisted" meaning that Vilane, along with his summit partner Alex Harris, undertook the journey on foot, dragging all their food and equipment -- weighing 130 kilograms -- behind them.
The pair walked 1,113 kilometers in 65 days in one of the world's most dangerous terrains. Antarctica has the strongest winds on the planet, which can blow at speeds of over 300 kilometers per hour, while temperatures can go down to -40 C.
When they finally reached their destination, they were left with just two days of emergency supplies.
Vilane describes the arduous trek as "the toughest, most challenging thing that one can ever endure," but is quick to add that the experience never got the better of him.
"It never broke me down," Vilane says, "I don't think it made me meet my physical limits yet."
Born in South Africa's north-western province of Mpumalanga, Vilane spent most of his childhood in a remote village in Swaziland.
He says his tough childhood has made him passionate about helping children in need. In 2005, Vilane climbed Everest for a second time, raising $40,000 for two children's charities.
"I've always had the desire to help children. That comes from my childhood -- I was helped by people when I was young and I was using that as a charity climb, so that is what got me back again into climbing," he says.
You've got to dream and then set out to achieve your dreams.
--Sibusiso Vilane
Vilane says he makes up for his small stature with mental strength and courage. "I may not be that big but I'm a giant at heart and I think that is the most important thing," he says. "If your mind is really that big, if it is an Everest size, then you can be able to reach the top."
When Vilane is not enduring the world's roughest terrains he works in the bush as a conservationist, the job that he considers his first love.
His other career -- as an adventurer -- came about when he met John Doble, the former British High Commissioner to Swaziland, who introduced him to mountain climbing and funded his first ascents.
Doble asked Vilane, who was working as a game ranger, why there weren't many world-famous black mountain climbers.
"I said to him, 'it's not that we can't do this sport, it's because we don't understand it -- should we be exposed to it I'm sure we can do it,' and that is how I got into it," Vilane says.
Vilane has been a member of the "Seven Summits" club since 2008 after reaching the top of the highest mountains on seven continents, becoming the first black African to join the elite club.
He says he hopes his feats will inspire young Africans to reach the top in their own life journeys.
Vilane says: "I just want them to realize that they are unique as Africans and we can match the world with anything we do -- be it sport, be it business, be it anything.
"You've got to dream and then set out to achieve your dreams. There will be challenges but it's about just being persistent and not giving up."
Teo Kermeliotis contributed to this report.
FOLLOW THIS TOPIC